Character generator
Our in-game character generator is really powerfull tool to create your own character. With this thing, every player in Prospekt Reborn can have his/her unique appearance.
In character generator you can edit this:
Gender
Clothes
Gear
Hair
Headgear
Some of our players do not know how to open character generator. So here is small tutorial for it: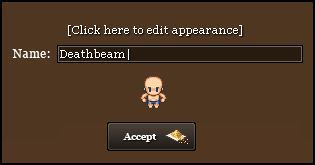 You must click [Click here to edit appearance] button to open Character generator. Then, when it is opened, edit your character to suit your needs. You can freely change gender, hair, clothes and other options. Then, when finished, just simply close it, or press Accept button, if you already wrote down your character name (character generator will close itself).
For Male you can make more thank 7000(!) unique combinations and for Female over 3500 unique combinations. Great yea?
Below is some generated characters with it: