Well the past few days i was working with Blender.
So i tried to create a 3D model from the character of the game Celerity.
Some peope were wondering how the character from Celerity looks like because you can't see him ingame. (either in the mirrored floor nor through the ego-perspective.)
Here you have it.
I wanted to make the character different from other video game characters. Especially games with a similar gameplay and feeling like "Mirror's Edge" and "Inmomentum".
Both games have a characters in a human Form.
I thought it would be interesting to have an "anthromorphic" character in this game.
This would be something different and it would also explain the characters physics/behaviour (you are faster and you can jump higher than a "normal" human)
The white parts are something "metallic" which are covering his body. the black parts are similar to a thin suit/skin which is also protecting him. He is also wearing a helmet.
The desing of this character is more or less "final". But it is possible that i will tweak some vertices and bones here and there.
For me personally this is a huge milestone. This is my first 3D character which was modelled and rigged in Blender by myself.
The next step will be animating and then importing the Model into Game Maker. ;)
Here you have a picture of the character which was directly taken out from the video below: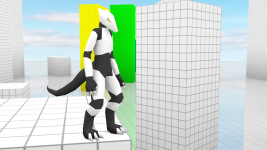 This video is a quick demonstration of the character/3D model.

Note that this video was completely rendered in Blender and is not ingame footage.