Progress on our Character Customisation feature is going really well, so we thought that its probably time to start providing some concrete details, as well as give the community a chance provide some input whilst we're still at the early stages of development.
Character Customisation is something we always wanted to include, even when we were still developing Bushido as a mod on the UDK engine. Ever since we made the decision to develop Bushido as a stand-alone game, we've been busy designing a system that'll provide players with both a historically accurate setting, as well a fun and innovative means of progressing their characters!
The core aims of our system are:
To provide players with the flexibility to customise their very own, unique
Samurai avatar
To create a game grounded in Japanese culture, but with a 'cinematic' take
on Japanese history - allowing players to choose from thousands of possible combinations
featuring armor styles from across history.
To build an unlock system that focus' on rewarding players in a more personalised way- not simply giving them overpowered weapons or perks.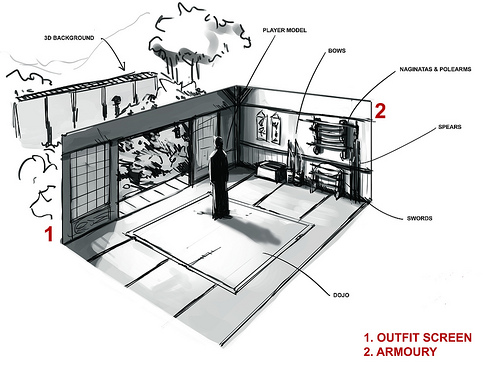 Concept art of the dojo by Kieran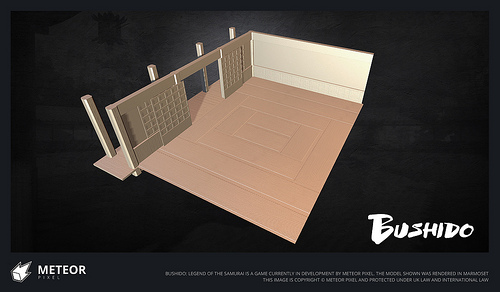 A 'clay' render of the dojo
Creating a unique avatar
We've developed a system that'll support thousands of possible armor combinations; allowing players to design a Samurai that's totally unique- something they can really call their own. Although many of
the features listed below are subject to change/improvements, we can say with some certainly that players will be able to:
Select from a range of different robe/hakama materials, patterns and colours
Pick from a range of head/faces and hair styles
Choose from hundreds of armor pieces for the head, torso, arms and legs
Decide on a mon (emblem) which will represent which clan you fight for
We've still got a lot of work to do, but would love to hear your comments at this early stage of development so we can check that we're going in the right direction!
Grounding Bushido in history
It's never been our intention to turn Bushido into a historically accurate 'Samurai Sim'. Instead, we're leaning towards a kind of cinematic realism that you see in films like 'Heavens Gate' or 'The Last Samurai'.
That's why some of the weapons and armor that'll feature in the game would not have traditionally been seen together on the battlefield (for example, the Tachi and Katana were designed and produced hundreds of years apart).
This'll mean that players will start the game wearing a lot of mismatched armor- initially looking like a rabble of poorly armed peasants rather than an elite troop of Samurai. But this in itself is a design
feature which emulates periods of Japanese history- as lower Samurai often had to borrow armor or scavenge what they could on the battlefield.
Only the elite and most renown Samurai could afford a full matching set- and this is something that we want players to work towards!
Unlockables - NOT for dominating newer players
We've all played multiplayer games that feature unlockable content. Not all of them are guilty of rewarding players with overpowered weapons or perks, but there does seem to be a growing trend where players who are willing to either 'play more' or 'pay more' gain distinct advantages over more casual players.
That's why we're working on a brand new unlock system; one where the 'rewards' will focus on progressing and refining your own play-style. We're still undecided about how we'll implement some of these features, but the general idea is as follows:
Differnt weapons and variations can be unlocked as you progess throughout the game

The player will have the option as to what type of weapons they unlock, be they pole arms, short swords or two handers

Some

weapons, like the Katana, will have a number of variations- each one

possessing

slightly different statistics as to allow player to

developing their own fighting style.

Armor

will work in much the same way. Individual armor pieces can be

unlocked independently- but players will be encouraged to work

towards unlocking a full set!
Unlocks through Experience and Honor
Our progression system revolves around two distinct concepts- Honor, and Experience. Your current honor ranking will dictate what tier of unlockables you have access to. As you progress through the ranks, new weapons or variations of weapons you've already unlocked will become available to you- allowing you to further specialize and refine your combat style.
Our honor system works both ways, so if you have very low honor (dishonor) you'll gain access to a unique set of weapons that wouldn't be available to players at the opposite end of the spectrum (possibly Ninja weapons and armor).
You can then effectively 'buy' a weapon or armor piece using your experience points.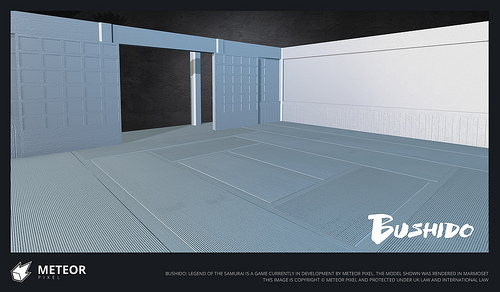 The 'actual' view of the dojo that you'll see when customising your character.
A final word
You'll have to bear in mind that these systems are still being developed and will be subject to change as development on the game continues. However, we hope that we've been able to give you a glimse of what Bushido will be able to offer on its release.
The good news is that because we're still at this early stage, we're still able to take feedback from the community! That said, please keep your feedback constructive- we read every single comment and would love to hear YOUR thoughts on this particular aspect of Bushido.
Thanks,
Team Bushido