Here's a new update showing off some of the Act 1/Book 1 Characters you will see in the game. Currently it's just 3, but I will hopefully show off more in the near future. Note these designs aren't final and might be changed in the future.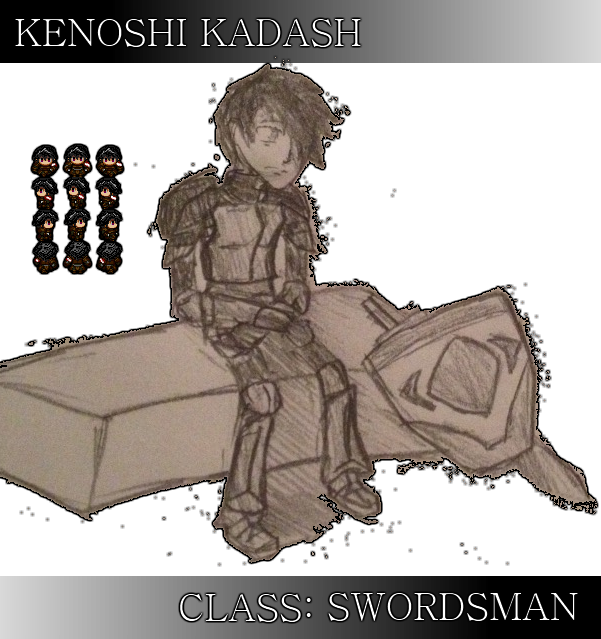 NAME: Kenoshi Kadash
GENDER: Male
BOD/AGE: January 23rd, 5679 C.D./ 16 Years old (At the start)
CLASS: Swordsman
PERSONALITY: Kenoshi was once caring and kind and willing to give others a chance. However now he is cold and uncaring of the value of human life and disregards it. Although for the few close friends he is more open.
BIO: Kenoshi was born to the Elite family of Kadash in the Middle Section to Ember and Rick Kadash and is the eldest of three. Like many born in The City, during the war, life wasn't easy, even for those in power as the chances of coming under fire from factions was common place and there wasn't much in way of escaping it. To protect himself and his siblings, his cousin, Oriana, taught him how to fight with a sword and shield and like herself quickly learned all of the steps.
Later on in his life, his family moved up to the Northern Section where the effects of the war were starting to fade and things were normalizing. While this was true for a short bit, the war slowly began to crept into the North until it like before was broiled into the war. Life once more for Kadash was in trouble and with his two sisters having been born during this time he began to train full time to become a knight for the Dean of the North to protect his family.
However when his parents went to visit the district of Gersian, it becomes under attack from a Middle Section faction while they're talking to the mayor. During this time they were killed while Kenoshi was out in the town. After the attack is stopped he feels at fault for not having stayed with them to prevent their death. A bit after he went to visit his uncle in the Northern Capital District of Tinsdal and tells him that he relinquishes his rights to inherit the family.
From there he becomes a Mercenary, no longer caring for the wellbeing of others and just for thrill and money.
NAME: Kayle Din
GENDER: Female
BOD/AGE: July 8th, 5676 C.D./ 19 Years old (at the start.)
CLASS: Spearman
PERSONALITY: Kayle is a hardened individual who is willing to go to extreme lengths to meet her goals. She hates being left in the dark and will go around people to find the truth. However in most cases she doesn't care even if she learns the truth and will complete the mission regardless of moral dilemmas.
BIO: From birth Kayle was looked down by her parents. Being normal and born to a Magical family was unforgivable and it wasn't until her brother, Ray, was born with magical abilities that the load was taken off. However for those years she became hardened and stopped caring, she was living in an Elite family's home but she was living a sub-life, as they continued to be scorn and ignored.
In secret she learned how to fight to protect herself, still adamant of living and with a new found sense of purpose she continued to learn. For the first time in her life she felt that she had a purpose outside merely existing as an outlet for her parent's anger.
In the middle of the night she would leave the house in Grim and fight the local gangs and even taking part in some of the faction warfare in the surrounding districts. However while she had many chances to just up and leave and never return she felt compelled to come back as she had one thing she enjoyed at home, her brother Ray.
Ray who had the entire family lineage put on him didn't look at Kayle in disgust as others did and enjoyed her company and even trained with her and from that she became a great fighter against mages. But even her time with Ray soon ended as he got older he started to look at her like a boss to an underling, sometimes when his parents looked away his expression would change but their gaze was always on.
Eventually this caused her to just leave one way and became a mercenary as she found that fighting was one of the few things she was good at. Over the years she eventually met Kenoshi and worked with him and the two made a friendship despite the harsh reality.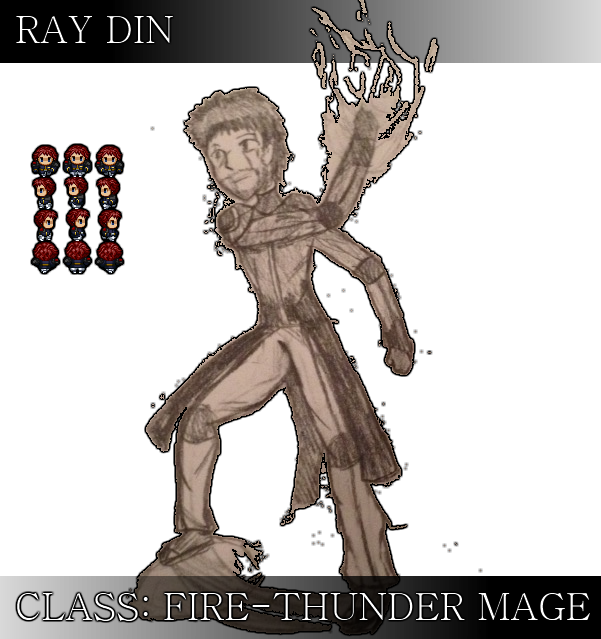 NAME: Ray Din
GENDER: Male
BOD/AGE: December 19th, 5678 C.D./ 17 Years Old (at the start.)
CLASS: Fire-Thunder Mage
PERSONALITY: Ray believes the good in people, a rarity in The City, but he believes there is. However when under pressure he finds he conforms to what others want as with his parents. He is kind and cares for others and wishes to the best for others.
BIO: Ray from the get goes was under a lot of pressure. With her parents too old to have more children he's the only one that continue the Din magical family line. Growing up he was pampered and given all of the attention that they took from Kayle. After learning he liked Fire and Thunder, he began to be tutored under those two elements and like his parents was quite proficient in the magical arts.
During his early years he spent many hours with his sister when they had got the chance. He understood that she felt that she wasn't wanted and he hoped that if he spent time with her that she wouldn't run off. Even when he learned she was going out in the night to fight he didn't say a thing to his parents but instead also began to train with her and they got both better at fighting.
However his parent's pressure began to get to him and he began to crack under the pressure and started to do everything his parents told him. There was an underlining sense of fear if he was to go against them. Where before he would spend time with his sister and enjoying life as normal as he could, he sometimes wouldn't see her for days and eventually she left and only saw her very rarely.
He tried to stay different but he even noticed that he was taking on many aspects of his parents and it was scaring him. Over the years after Kayle left to become a mercenary sometimes he fought the pressure and actually took jobs with her and it was during these moments that he felt truly free.
But now he hasn't seen Kayle in a while and his parents are taking full control of his life to ensure their legacy.
---
Hope you enjoyed these looks at the three characters! There is more to come. Also I mentioned in the last news that I was planning a story for Kayle. I have a chapter written and one-third the way through Chapter 2. If you guys are interested please comment. :)
Also Ray's sprite model isn't done yet. Still in progress.