Hey guys, my name is Andrew, and I am the head 3D artist for Reaction. We have been working so hard on the game recently that we haven't been able to write the next Element Spotlight yet. We want to post something every week (mostly to show you guys that we have been working and making progress), so for this week, I will be sharing some screenshots and some info about the character models.
We will be back in the next weeks with more Element Spotlights, talking about Oxygen, Copper, and Tin.
So here are some screenshots of Hydrogen, Iron (and another of his work-in-progress ultimate armor), Copper and Tin. Please keep in mind that !) they are being rendered in blender without textures (hence the empty eyes) or the lighting engine we will be using, and 2) we will keep working on these, especially Iron's ult, so they may not look exactly the same in the alpha release.
We set up the characters each to have their own base model, and then build armor or clothes on top of that. This way, we can have a bunch of different items for you to customize exactly what the character will look like when you play them.
The items are currently split up into Head accessory, Hair, Torso, Arms, Legs, Back, Weapon, and Special (for things like Iron's ultimate).
Most of the cosmetics will cost money to go to supporting development of the game, but others will be available through achievements or just for free because free stuff is awesome. An example of this is these googly eyes that I accidentally added to Tin, which will be free: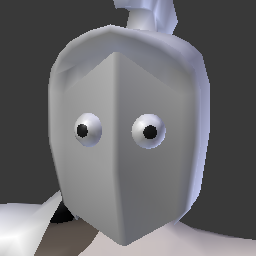 Heheheheheheheh.
Have any comments or suggestions? We would love to hear from you! Comment below, or contact us on Facebook or Twitter