This version of the game brings Achievements! For those of you who have played the game, if you have already met the criteria for unlock an achievement, the achievement should become unlocked as soon as you open your profile inside the game. Be aware that there may be a few achievements that might require you to go back and trigger them again.

In-game achievements are linked to each in-game profile. Unlocking an achievement on any profile will unlock the achievement on Steam.

If you don't play the game through Steam, you will still unlock achievements on your in-game profiles, but the achievements will not unlock on Steam.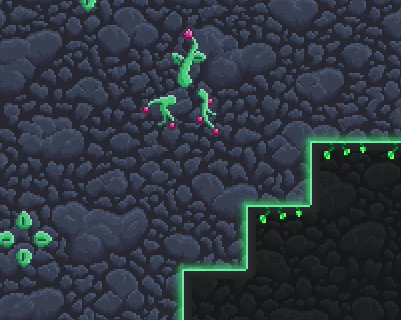 Changes and additions:
Added achievements (both in-game and on Steam).
Reworked sprite and added animation for dart blocks.
Added dart blocks that shoot up and down.
Dart blocks now autotile with walls.
Added flower spikes for left and right directions.
Reworked wanted poster sprite in the home room.
Reworked music player sprite in the home room.
Deaths in tutorial room no longer counts toward death count.
Moved zone logo farther down on the screen so that it doesn't overlap with the achievement displays.
The "Loading Replays" text no longer shows on rooms that have no replays (such as boss rooms).
Fixed profile display to show the correct number of total music disks (30 instead of 32).
Fixed bug with lvl_5_3 thinking there was a bonus goo in the level when there isn't.
Fixed a bug with the upright mushroom creatures that would spawn them inside of the wall.
Moved level numbers and goo scores closer to the doors in the overworld.
Level cosmetic changes:
Known bugs:
The steam overlay leaves artifacts on the black bars that appear if the game window is a different aspect ratio than the game camera.