So lets have a look at resources and reliquaries.
There's 5 flavours of resources to be found, blood, essence,steel, bone and a fifth souls.These come in reliquaries, ancient containers and links to the real world.
These resources are normally hidden, but can be summoned by the Father Longlegs unit (or the denmother, not yet decided)..
Once a summoning ritual is performed a relevant Reliquary is raised from the sands.. Relevant to the location and tile (little hints in the environment will indicate what could be found)..
A relic will provide either resources at a fixed interval, but only as long as father longlegs or sub-unit is performing the ritual.. There is also the option to immediately claim the full resource and convert it to a special ability ingredient for the unit creation alchemy..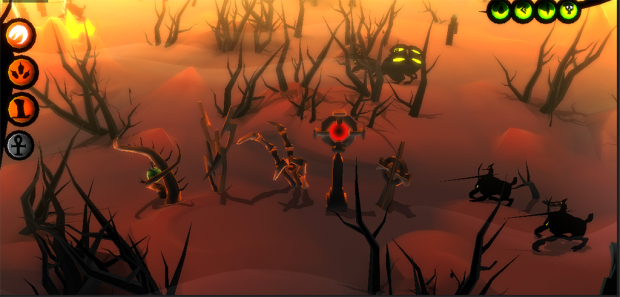 In the Screen I've placed in order the first designs for the reliquary, expect a video with the summoning ritual and raising animations soon.
there's the "tree of knowledge", "battlefield relic", "bone totem"," Saints reliquary" and finally the grave.. Now the first four stand for essence, steel, bone and blood. The grave stands for the resting place of a soul (I'm thinking a bit of crusades lore, foot soldiers, knights and kings from that era).. Each grave is protected and for instance a Kings grave will be a End level objective.
Once the grave is raised it can claimed for an intact soul. An intact soul will be a unit template, a shape,creature type and base abilities related to the strength of the soul .
Once you have a soul, you can mix it with the other resources to create a new creature to be summoned, a twisted shade of the original knight, footsoldier or king. A chained shadow...