Chained Echoes raised 35.000€ (58% of funding goal) and also announced the Nintendo Switch stretch goal! The campaign has 20 days left.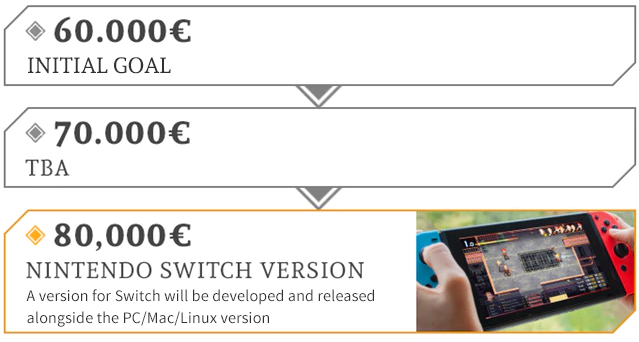 Chained Echoes is based in the fantasy world of Valandis, where you play as a group of heroes that venture to bring an end to an everlasting war between three kingdoms and destroy the strongest weapon the Gods have ever created, The Grand Grimoire.
Inspired by the Japanese RPGs for SNES and PSX, Chained Echoes combines the charming graphics and deep storylines of these 90's classics with modern game design principles, all the while adding unique features into the mix. You can board your mechs and journey through a vast overworld, discovering new locations in isolated areas unreachable by foot. You can also equip your mechs with a wide arsenal of mechanical parts and weapons, allowing one of your characters to be the pilot in fights against bigger foes up in the sky. Similar to your mech, you can equip your very own airship with powerful upgrades, assign your characters to positions like the bridge, machine room and more, all to combat against your enemy's armies in massive battles across the skies.
Key features:
20 - 25 hours of play time
Fast paced turn-based battle
No random encounters; enemies can be seen running around
Tons of items to be looted, stolen or crafted
Complex skill and equipment system
Customize your own airship
Travel and fight by foot or in your Mech
16-bit SNES style graphics
Music inspired by PSX RPGs