Hi all! In CECA 2, Chappy (the main character) has a lot of weapon choices. Let's have a look at some of them:
Starting with the Rocket Laucher, it does pretty much what you'd expect. It damages all enemies caught up in the explosion. The Rocket Launcher deals average damage and its ammo is relatively cheap compared to other weapons. Next, we'll look at the Explosive Ornament. This decoration may look innocent but tossing one of these on the floor will make it split into several explosive fragments. Each fragment deals as much damage as a Rocket would. It also covers a good amount of ground.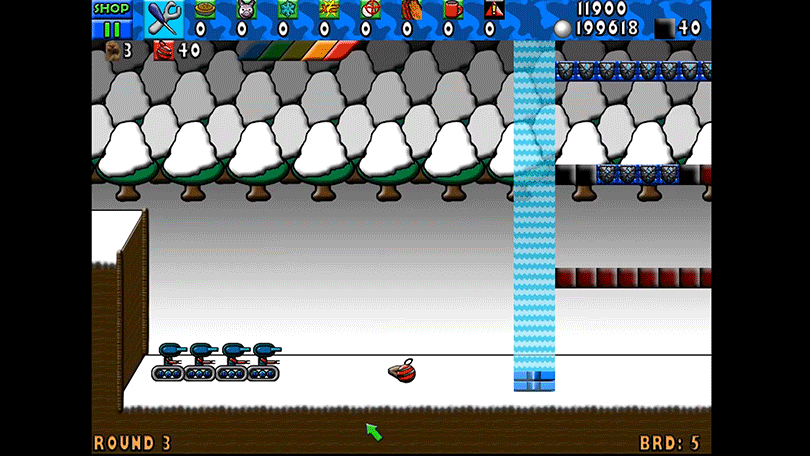 Up next is the Zipper. After throwing out one of these you have complete control over it. Just remember that you are vulnerable to enemies while controlling the Zipper. The Zipper deals 5 hits before you lose control of it. You can early cancel the Zipper, and return to Chappy, by pressing the Jump button (default = Z). Now for two weapons that got upgraded!
Introducing the new improved Eggbeater! The Eggbeater doesn't do much damage but it does go through several enemies in a line. Chappy can now hold onto the Eggbeater for a free ride. This enables Chappy to move around the HQ a lot faster. Chappy will hold on as long as you are holding the attack button (default = x). Chappy will automatically let go once he collides with a wall or when there is no floor beneath him. The Second upgraded weapon is the C4 Present. The most expensive weapon in the game now acts like the most expensive weapon in the game! The C4 Present covers a lot more ground and can potentially take out most foes. Press the attack button to plant a C4 Present. Press it again to detonate it! Just look at that chain of explosions! The last two weapons' improved forms will be available in the next version. Right now, CECA 2 isn't available on IndieDB. I will upload it once I update it on Gamejolt. You can download it here, however: Gamejolt.com
That's all for today. See you guys in the next news update!
---
CECA 2 is a Round Survival based game with some Tower Defense Elements worked into it. You play as Chappy, the disembodied hand. Your goal is to defend Santa's HQ from enemies while staying alive yourself.
Right now, CECA 2 isn't available on IndieDB. I will upload it once I update it on Gamejolt. You can download it here, however: Gamejolt.com