Our latest update, Cash of Clans has landed; bringing with it an exciting new way of rewarding players for their hard-fought battles. In this update we have implemented a new system which we're calling 'Clan Seasons'.The purpose of Clan Seasons is to introduce regular, monthly rewards of additional Robits for all members of a clan. As each member participates in battles, it increases the Robits reward so the more active a clan, the more Robits everyone within receives.
So how does this work?
Just like for leveling, players in a clan accumulate a Season XP while participating in battles; typically by burning an enemy player to a cinder, healing up an ally, or taking objectives; this is referred to as SXP. At the end of each battle, any SXP earned is added to your Clan's XP total for the current season. This is referred to as TXP (it's your clans Total XP). At the end of the season this TXP determines how many robits each member of the clan receives.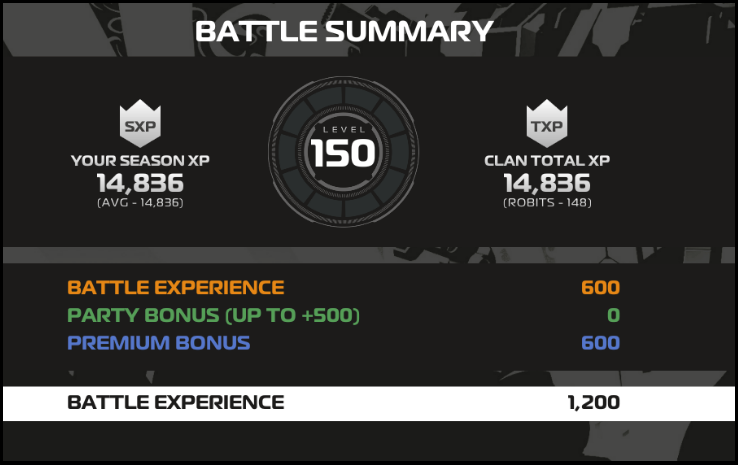 New Post-Battle Summary Screen displays all relevant XP Information
But how do seasons function?
Clan seasons will be one month in duration, starting on the 1st and ending on the last day of the same month. Once a season has ended, the next time a player logs in they will be taken to a special screen which shows all the stats for the last season such as total TXP earned and total robits earned. They will then receive their seasonal reward.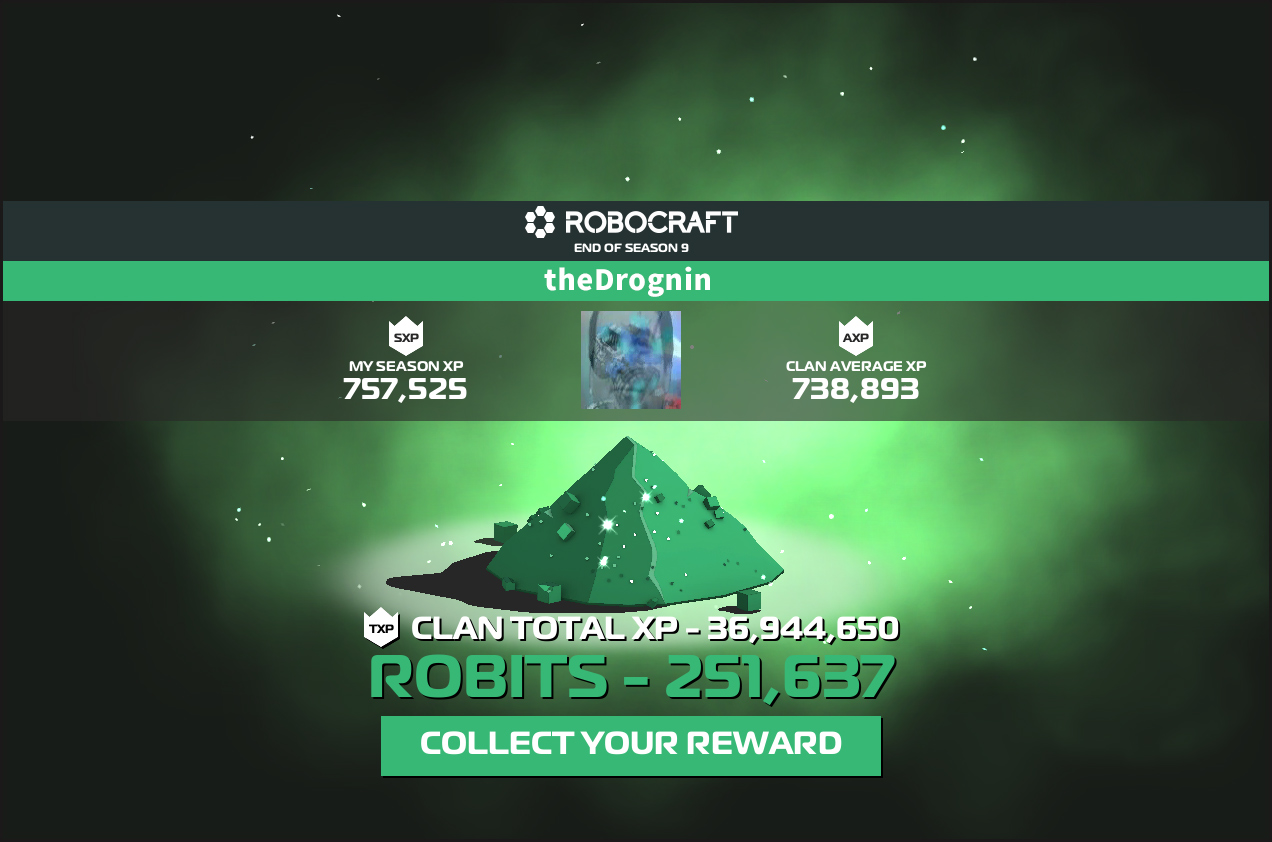 As the Cash of Clans update launched mid-month, we started with Season Zero. It is a short season that only lasts until the end of October. However all TXP based robits rewards will be tripled for this period. Then, from November 1st we will begin Season 1 and continue on a monthly cycle.
In addition to Clans Seasons, we have introduced the following changes, balance improvements and bug fixes.
——————– BALANCE ——————–
Laser, Plasma, Rail and Nano fire rate have been reduced at lower gun counts, but the maximum number of guns necessary for full attack speed hasn't changed.

E.g. Laser Distintegrator gains its maximum benefit at 4 guns. This is still the case but having only 1 gun now shoots considerably slower than before, but having 3 guns only shoots slightly slower than before. Having 4 guns shoots at exactly the same fire rate as before.
Note: You can click the names of the weapons above to view charts showing the data for the biggest and smallest of each of their categories, and how the changes will impact them.
Note: These changes only apply to laser/plasma/rail/nano of 30 CPU and below. So it doesn't impact the 'mega' versions of these weapons such as the Leviathan and Goliathon.
Why?
As some of our veterans may remember, there was a period where Robocraft battles were filled almost entirely with gunbeds. Gunbeds are robots which are little more than bricks covered in lasers or plasma. They aren't particularly creative or pretty, but they were very strong so a lot of players used them which overall stunted building creativity and robot diversity.
To resolve this, we reduced the number of guns of one type necessary to deal high damage, but this in combination with the introduction of Loadouts has allowed players to have 'swiss army knife' robots which can have a few lasers, plasma, rail and/or nano with a majority of the benefit without having to dedicate too much CPU into each.
We expect these changes to improve the situation in the following areas:
Cause players to dedicate more CPU into laser, plasma, rail and nano in order to gain the same benefit.
Increase the importance of shooting off weapons first as their fire rate will drop more rapidly than before as each one is shot off.
Offer deeper decision making opportunities as building generalist robots will be weaker.
Increase the effectiveness of using specalized and diversified robots when in platoons, rather than all playing generalist roles.
Although we don't believe the above goals will be achieved perfectly, this is but one step towards improving the value of building in Robocraft, and the diversity of robots on the battlefield. We will continue to make changes in the future as part of these efforts.
Other Balance:
Rotor Blade Recon and Rotor Blade Invader have had their flight height reduced to match the Rotor Blade Assault.
——————– CHANGES ——————–
Changes to Premium prices and discounts in pound sterling.
Character limit for clans and usernames changed to 32.
Clan Tab updated to clearly display the changes made by the Clans Seasons Update.
——————– BUG FIXES ——————–
Fixed a bug with the reload sound effect for Rocket launchers.
Fixed a bug which caused game servers to stall for up to an hour if they fail to load game settings.
Fixed a bug where "Remove robot from the CRF" dialogue box was empty.
Fixed a visual bug relating to a clan disbandment while you have a pending invite from them.
Fixed an issue where the top HUD menu disappeared after the appearance of certain screens.
Fixed a bug where the 'enable vertical strafing' box was unticked after making edits to the bot and entering battle.
Fixed an issue where Searching clans failed when trying to load more clans more than seven times.
Fixed an issue where it was possible to lose the mouse cursor and not be able to get it back.
Fixed an audio issue where if you received a party invite and returned from a game or from another scene, you heard the sound effect again.
Fixed an issue when a friend request is accepted by both users in game (via the TAB screen) there is no "user has come online" message.
Fixed an issue where tower crystals would sometimes not fully display when a fusion tower was captured.
Fixed a visual bug where the 'earth geo orbit' loading screen gets garbled just before transitioning to the menu.
Made the 'invite only' message in the clan widget consistent throughout.
Fixed a bug where users could see messages from players they had blocked.
Fixed a rare issue with inviting the 50th member to a clan.