We just put Cannon Brawl up on Steam Greenlight. If you're digging this game, we'd appreciate your yes vote! And so that this isn't just shameless self promotion, here's what we've been working on lately:
- Battle UI revamp, we did a lot of clean up so that the game information your need like upgrade costs and build menu is clear and right where you'd expect it.
- New Bank building, Warhead building, more news on these soon
- New Multiplayer Maps, I recently mocked up a desert and ice environment, and now they're in the game as two new multiplayer maps. We're still playtesting and changing these a lot, but here's a little preview: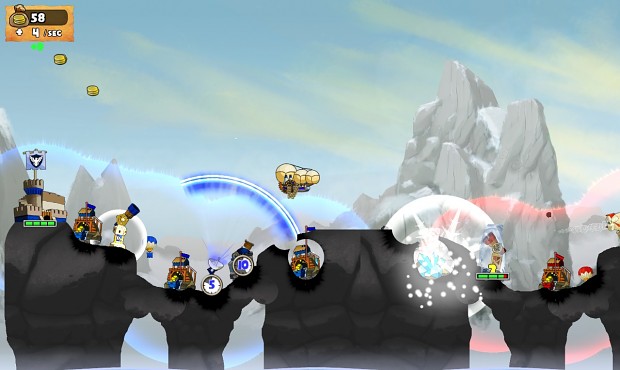 The Ice Environment: For now, this map is pretty straight forward, you get straight the action very quickly. We'll likely iterate on the terrain a bit more, to make sure the pacing feels just right. I also want to environmental stuff like snow or ice crystals that could affect the battle somehow but I'm not sure yet...let me know if you have ideas!

---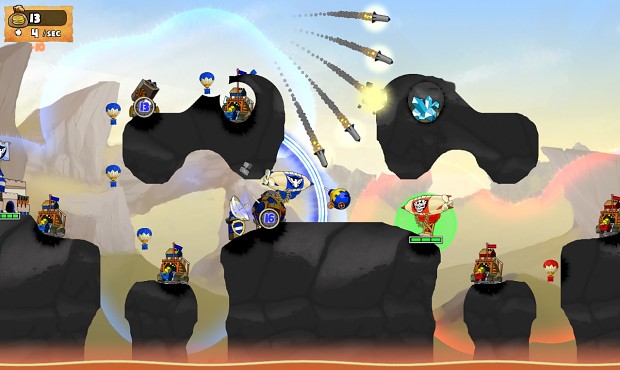 The Desert Environment: This has some interesting floating islands that provide a sort of land shield for your HQs, as well as attack platforms and valuable high ground. I also want to add some sort of desert environment feature like sand to affect the battle, but still thinking on this one...again, ideas welcome!
---
Leave any ideas about environment battle elements in the comments!