Push Mechanic
It was always in the back of my mind to have some light puzzles in Candlelight. Now the candle can push objects around allowing for some puzzles to solve.
Burn Mechanic
The candle can now set things on fire and it is A LOT of fun to do this! Fire can spread so you have to be careful what you set on fire. Burning crates reveal hidden areas, drop health orbs or damage orbs. Like the push mechanic, burning things will be part of puzzles in Candlelight.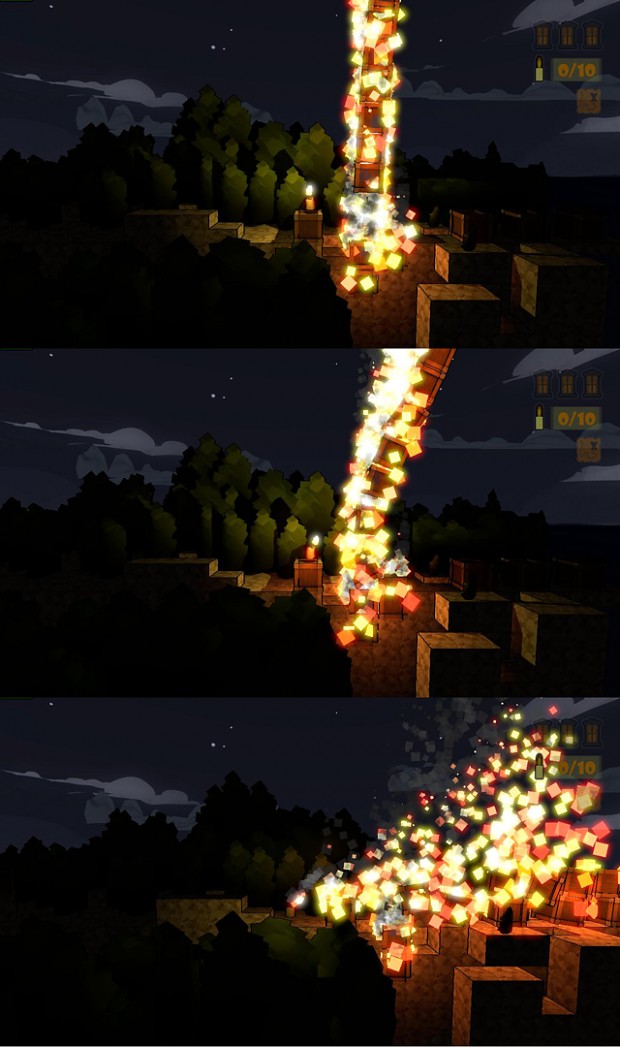 Water vs Fire System
Now that you can set things on fire there are elements in the game that can also extinguish them. Rain, water and water enemies can put out burning objects. This makes for some pretty interesting scenarios and timing events.
Explosion Destruction System
I finally got around to finishing the destruction system for TNT. When TNT explodes now, it checks for an object tag to see if it can be destroyed.
Water Enemies
These guys patrol an area and shoot water balls at you when you get within their range. They can also push boxes back into place that you have moved. The only way to kill a water enemy is to explode a TNT when they are close to it.
Water Boss
Candlelight's first official boss is in the game, complete with attacks and a resting stage. I don't really want to give away the details but you battle him in a steamboat in the middle of the ocean. Thanks to Kris Ducote for the animations.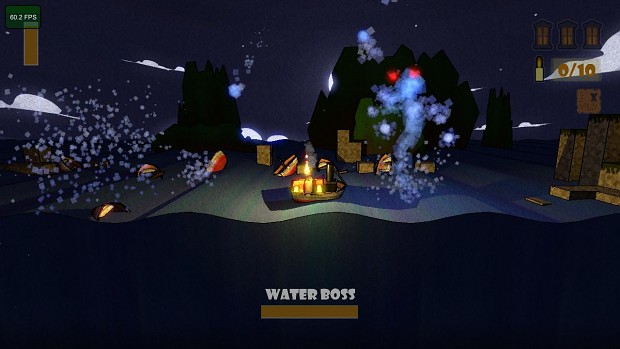 Steamboat
The second vehicle in Candlelight makes it appearance. I really want the game to have an adventure feel to it so I added a boat that gets you from island to island.
River Barrels
Ever since I read The Hobbit when I was a kid, I always wanted to ride barrels down a river. Goal complete! This really challenges your ability to jump on moving targets that sink.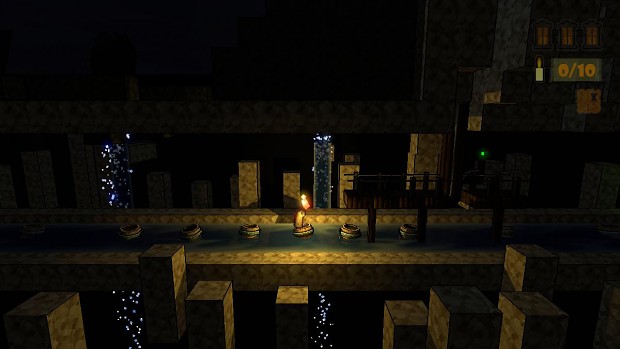 Snow Level with Xmas Tree Battle
That's right, at some point during Candlelight you might happen upon a decorated tree that is not in the best mood. Complete will decoration balls and presents that are shot out from the tree.
Call Boxes for Moving Platforms
Now you can call moving platforms back to you. This was actually a pretty major addition to the game considering waiting around is not good for a burning candle.
Menus System Complete
This has been a long time coming mostly because working on menus is not really that fun, but it is now complete with gamepad and keyboard support. This also includes a brightness setting for the game which was important considering the inconsistencies with monitor brightness levels. A special thanks goes out to Carlos Lugo for writing the script for this functionality.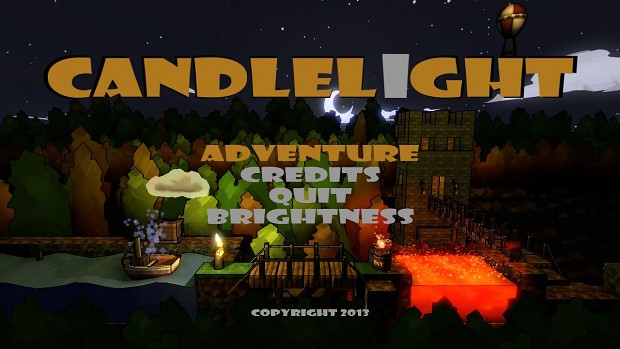 New Skies
The new skies are in the game and they look great. Although they are not the final versions, they are in the ballpark and add a lot of depth to the backdrop.
Credits
Another part that I eventually needed to complete so I knocked it out over a day. It's a scene onto itself with some pretty cool lighting effects with lighted TNT barrels floating down with text above them.