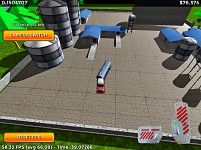 Sure, having great gameplay features is all nice and swell, however... without some decent visuals most of todays gamers will quickly hit the uninstall button. So, to complement out enormous world scale we introduced real-time shadowing. And that's on mobiles, so you know!
Of course, not all devices will be able to run this fairly CPU intensive feature, so at the beginning of gameplay our hardware benchmarking will determine whether your device is capable of running such advanced eye-candy.
Some other feature are comming up of which we will inform you in about a week.
Thanx for reading!