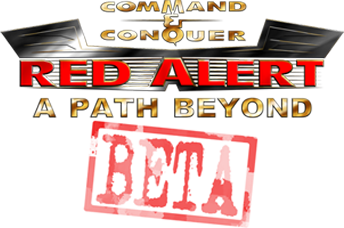 The clock is ringing, Red alert: A Path Beyond - "Beta" is here!
This free standalone game is up for download in several places, you can pick your poison among these current mirrors:
ModDB
Gamershell.com (4US, 2UK mirrors)
Gamespot
EmoWhale, thanks to Cajaks
Game-Maps.net (thanks Oxi)
Black Cell (thanks WD)
Riku5464's server (thanks Riku and Tankbusta)
TankBusta's Mirror (thanks TankBusta)
DME Hosting (Thanks Speedy059)
Deathrayproductions Mirror (Thanks Cmatt & Silent_Pawz)
CnC-Files (thanks JohnWE)
grimDev.com (thanks grimDev)
PlanetCNC (Thanks Hexetic)
Neogods (Thanks Mathk1ll)
Supragame (Thanks Kholdstare)
CnC Source (Thanks MightyBOB & Assassin)
If you don't know about our game, which is based on the RTS game Command & Conquer: Red alert where an alternate WWII takes place, come on in and check out the profile.
Checkout the official server stats as well to see who's playing Apb.mp-gaming.com
If you like what you see, download our game and join the fight! I need reinforcements! Be sure to train yourself with the manual too, because driving a Mammoth Tank while under fire from a Longbow ain't no picnic!