The British campaign is dedicated to the combat path of the Australian and New Zealand Army Corps. The campaign will conduct the player through the various battlegrounds, from the torrid Turkish coast of Gallipoli to the flooded trenches of northern France.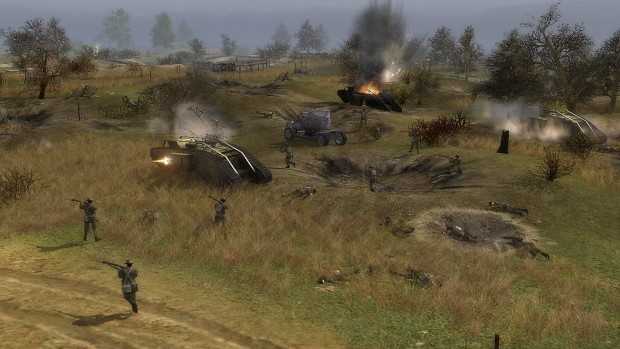 You are going to take part in the most famous battles for the Anzac's - the landing at Gallipoli under the scorching sun, fierce battles at the land of the Somme and in the ruins of Picardy towns after the brutal shelling, capturing the heights of Messines and the final attack in 1918 - the battle at Le Hamel and storming of the Mont Saint-Quentin hill.
In this campaign the player gets introduced to real life historical figures such as General "Black Jack" Pershing and General Monash.

Missions are filled with a variety of tasks - the first tank attacks, sabotage operations, large-scale infantry battles and high ground assaults, the rescue of prisoners, and landing on the coast under the heavy enemy fire. For the first time in Battle of Empires, players get to fight against the Turkish army in the battles at Gallipoli!

The cool water spray from the Sea of ​​Marmara ...the cold rain and knee high icy mud of Flanders and France ... do not pay any heed, soldier! You'll be able to keep warm, and dry when you get home to Australia and New Zealand! But for now - go forth! For your King! For your Country!

The British campaign is available as a separate DLC and as a part of the Season Pass package.