Hello again!
In todays post we will be talking about our test sessions!
During these past weeks we performed two different test sessions, the first one was in a less organized version of the game where we only asked testers to give us feedback on how they felt towards our game!
We then used took this feedback to improve the game and created a new more improved build of the game, it was with this built that the second testers played, also instead of just saying what they felt towards our game like in the first session, they were given a google forms document asking them about how they felt towards the level design / art and mechanics of our game.
Test Sessions v1
During the first test sessions we had a total of 5 testers.
We will now enlist the testers and their complaints.
Bernardo:
- Glide has too much velocity.
- Camera sensibility is too high.
- There is a bug where when the player activates glide and dashes the glide dissapears (this is intentional) but if the player tries to glide again after dashing the glide wont activate.
He also noted that in the wind area it would be could to have wind that makes platforming harder instead of always assisting you.


Nuno:
- Nothing negative to say, he only enjoyed his experience.


Cristiana:
- When the player dashes the camera stays behind for a bit too give a visual effect of speed, this tester did not like this and said it was too weird.
- The jump takes to long to go up.


Moniz:
- Glide doesn't work very well.


Luis:
- Does not like the dash effect (previously mentioned in Cristiana's test).
- The game lacks challenge.
- He would rather be able to use an empowered mechanic by pressing a button while empowered instead of the next mechanic he uses becoming empowered.
Test Sessions v2
During this session we had a total of 10 testers, although one of them asked that their information would not be disclosed online so we will comply with this request, meaning that only 9 testers will be shown.
In these tests we also looked for people that would fit our target audience.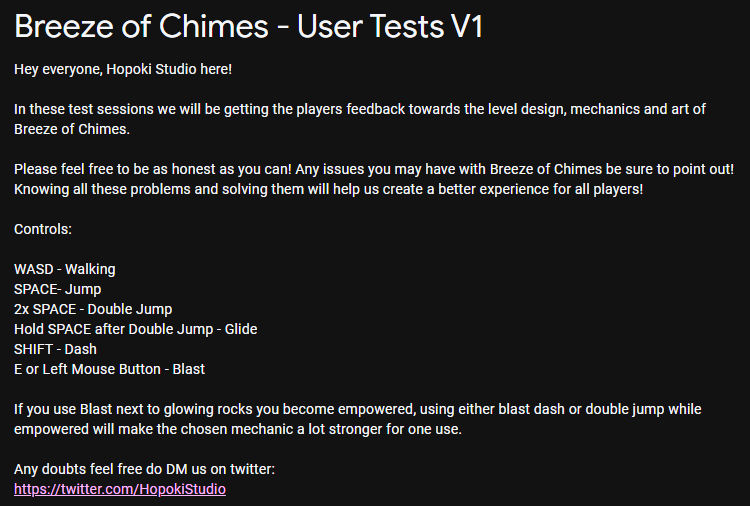 Intro to our Test (Showing the Controls of our game)
Overall these tests showed us that people enjoyed the game, felt that the level design was clear and that the mechanics were fun.
We got a few complaints about how certain mechanics worked, and most players encountered bugs during their experience.
Art Feedback and other things!
We also asked how players felt towards some of our art, like the protagonists model sheet and the empowered stone concept.
Empowerment Stone Concept Art
Overall these two arts got great feedback and people really enjoyed them! They also said the character looks exactly like how they would imagine our character to be!
The only complaint was that the empowerment stone didnt really give off the wind vibe because of its color.
They also said that the new way of activating empowerment felt hard to use to we will be working our hardest to create a better control scheme that feels more intuitive.
Speaking of which.. here they are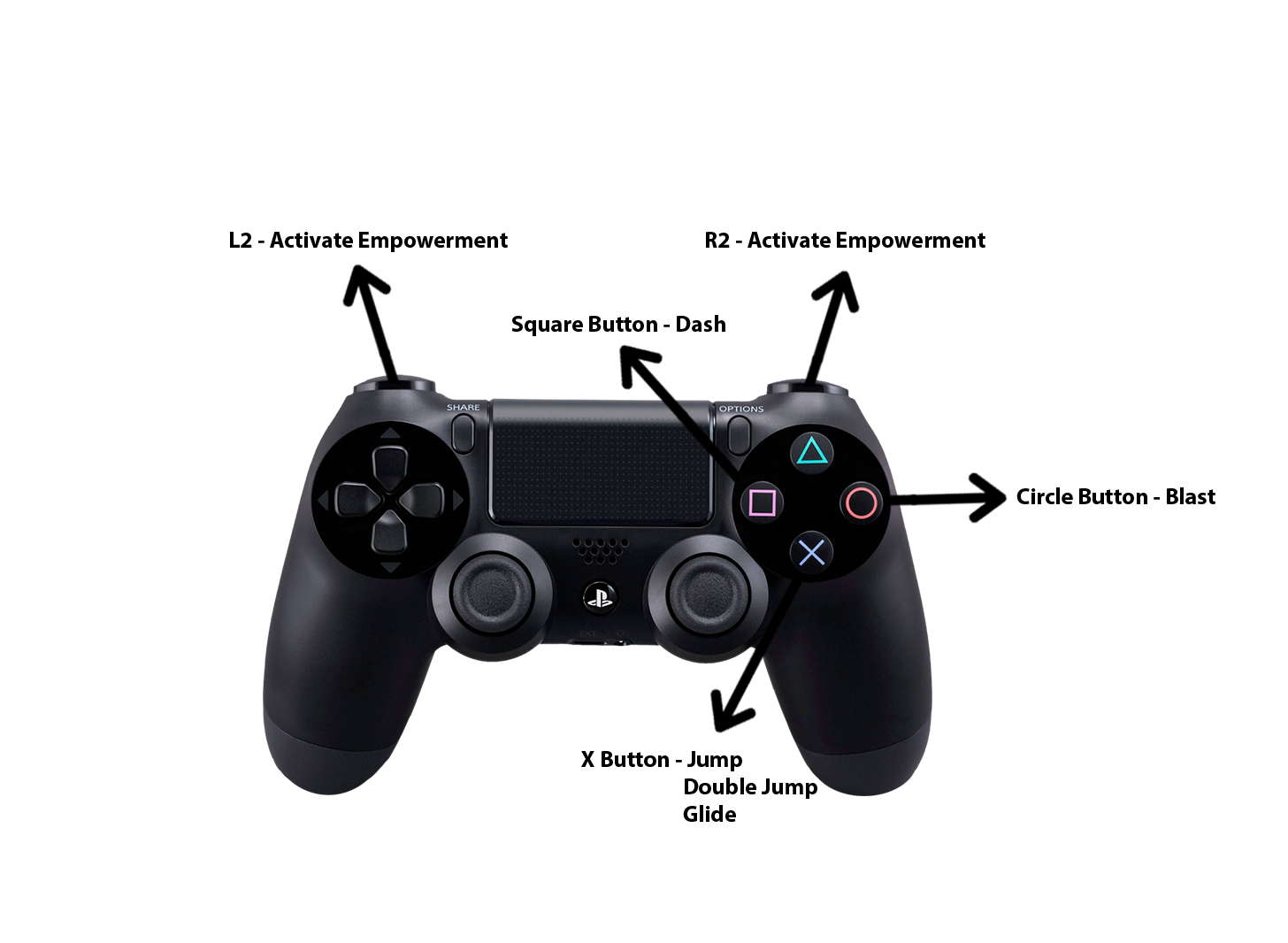 DualShock Control Scheme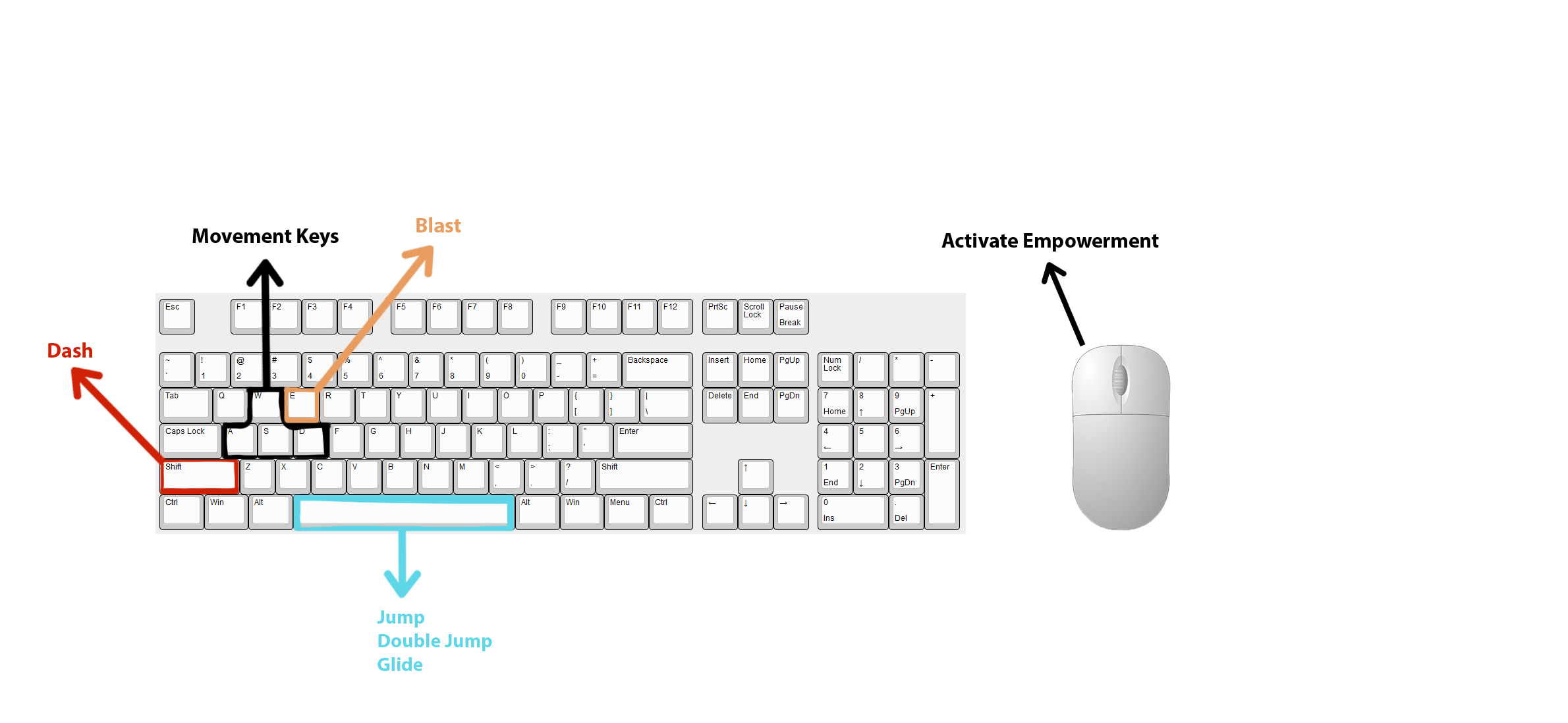 Keyboard + Mouse Control Scheme
Right now we are actively trying to figure out a better way to activate empowerment and will give you all our responses to this problem soon enough!
Thank you!
Thank you for reading through all this text! Today's post was a bit long but we hope you enjoyed!
Social Medias:
If you wish to contact us/interact in any way feel free to either follow us on twitter our e-mail us!
Twitter: Twitter.com
E-Mail: hopokistudio@gmail.com