I received loads of great feed back after I submitted Boxel a few weeks ago. I was able to attend most issues and add minor features such as the 'NEXT' button. Overall, the game is looking very solid and I wanted to talk about the recent changes.
Lots of people were interested in an option to quickly continue after the level was complete. I thought this was a great idea, so I added it right away. If you downloaded v1.0.2 last week, you probably got a glimps of what it looks like. I tweaked it a bit to look more nice; here was the result: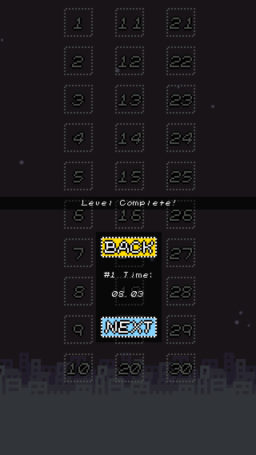 The goal was to allow the player to see their high score without being distracted by the background; that's why it fades to black after each level is completed or selected.
In addition to making the game more functionally pleasing, I fixed up the 3rd theme a bit by playing with the colors and what not: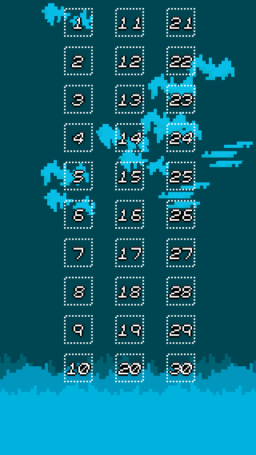 Since the game is now complete, you should give it a shot. Downloads are like gold to developers, and it's fun to see a game grow. Check it out here:

Change Log: v1.0.3+Added visibility for new high scores+Added 10 new levels (30/30)+Relocated the high score+Relocated the 'play' button to support unique screen resolutions+Fixed the audio so that it properly works according to your media volume+Fixed a rare freezing bug caused by finishing a level+Optimized the overall level performance to reduce minor lag spikes+Improved the 'pause' buttons functionality+Improved the 'next' buttons functionality+Tweaked a few levels+Removed the 'exit' button
Thanks for reading, I hope you enjoy Boxel!