Hey, Levelheads! We're pumped to bring you PATCH 0.19 this week, which finally brings out one of our long-awaited powerups! We also have some fun new utilities in the campaign and the editor, and a couple of new blocks to play with! Pair all that with the big bundle of bug fixes and small improvements, and we've got ourselves a whopper of a patch. Enjoy!
Introducing: the Rebound!
First and MOST IMPORTANTLY, patch 0.19 finally introduces the fifth powerup: the Rebound! This one is pretty weird, so we'll just let this gif explain it: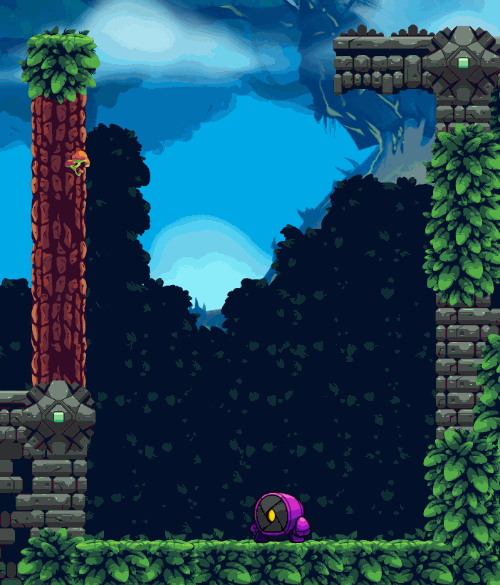 The Rebound has been in the idea phase for over a year, just kind of chilling on the backburner, as it's a fairly non-traditional powerup and needed a lot of tweaking and polish to get it to feel right.
With the Rebound, you shoot a face orb out of your head. You can shoot enemies with the orb, or you can try to bounce off of it to give yourself a super jump! Or you can just use the recoil to launch yourself over and around obstacles. And because it fires in two-shot bursts that regenerate all at once, you can even play with the shot timing to fire three shots back to back, once you figure the thing out.
We're really excited to see what our players come up with for the Rebound, because honestly, even we have no idea what this thing is capable of.
Control that Zipper!
Our level builders often comment that the Zipper powerup can be quite challenging to build levels around. Once you give the player a Zipper, you suddenly have to be very careful, because the player can get through ANY walls! Well, NOT ANYMORE! Now, with Lead Block technology, you can keep that player from zipping... anywhere!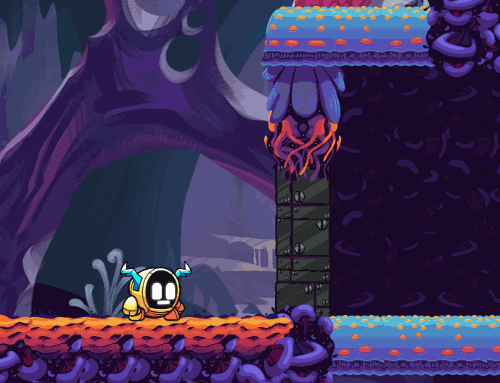 Oh, but don't worry -- lead blocks can be tied to switches, too! So if you want to let the player zip through later, you've got the option!
To spike, or not to spike?
Sometimes you want a block. Sometimes you want a spike.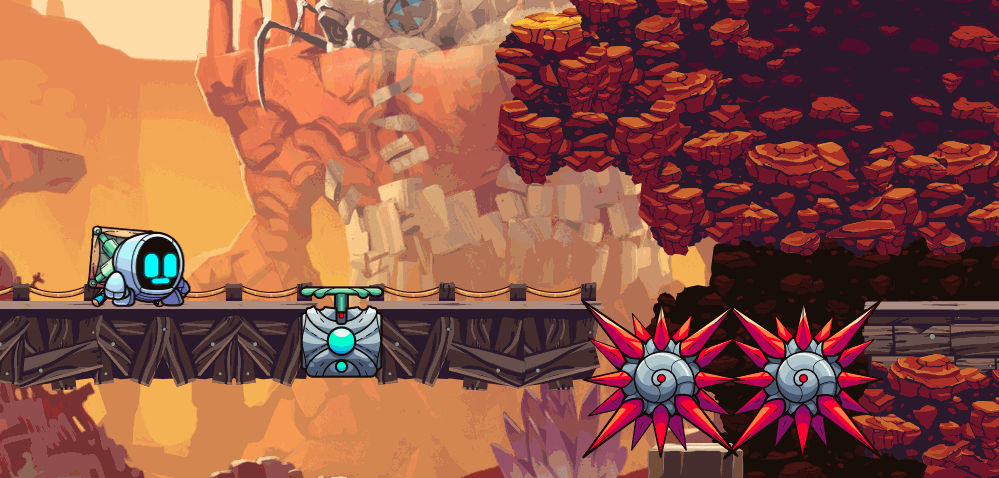 WELL NOW YOU'VE GOT BOTH! Introducing the SPIKE BLOCK! Spike Blocks behave like Hardlights -- they automatically turn on and off on their own, but you can override that behavior by attaching them to switches.
What's what I see on the horizon? Is it... Yes... It's a wave of troll levels, about to wash over us all.
On second thought... Let's go bigger.
Have you ever been building a level and then thought, "Crap... I picked the wrong size!"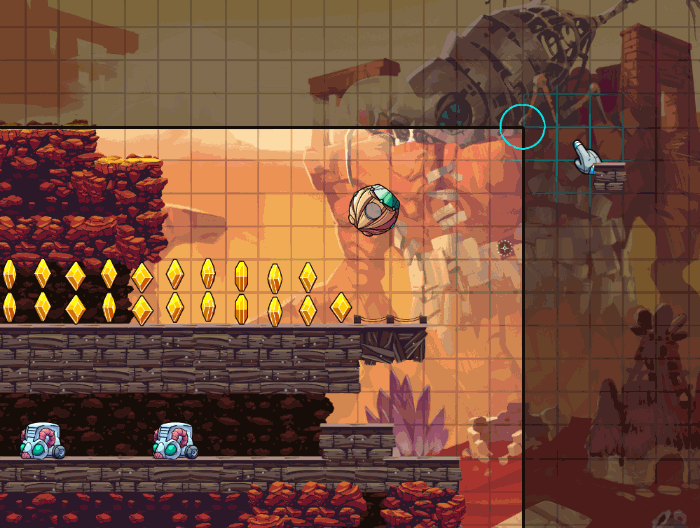 Well you can throw those thoughts into the GARBAGE. Because now, you can expand or shrink your level to fit your mistakes! Er... plans. Your well-laid-out plans.
New campaign levels!
We packed three new levels onto the end of the campaign, which are meant to showcase both the Asteroid Tunnels biome and the Rebound. And Sam also went back through some of the older campaign levels and packed a few little extra toys into there, just to SPICE THINGS UP!
But once we got these campaign updates in, we realized... This campaign is getting REALLY BIG. Yeah, we want people to experience the new levels, but it sure is becoming a chore to navigate this giant campaign map. So we took care of that.
WARP SPEED AHEAD!
YEP, THAT'S RIGHT. When you are in the Inspect mode of the campaign, you can now warp to any campaign node that you have previously been to.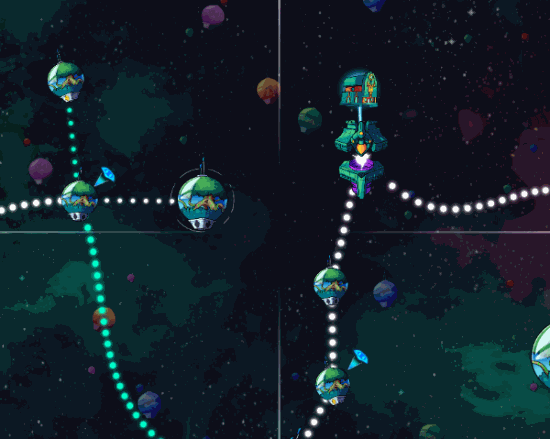 That should speed things up a bit! Oh, and you can also warp to the campaign node you are already sitting on. That was a bug, but we're leaving it in because it's hilarious.
New Pressure Plate Styles!
We wanted to expand the functionality of pressure plates, SO WE DID! You can now tell them to simply toggle when pressed (instead of needing to always be held), or you can even have them explode! You know, just in case... in case you needed to blow something up.
Updated Version System Incoming
Now you might be looking at this patch and thinking, "HEY WAIT A MINUTE. Did we just skip five version numbers?" YES. Yes we did. Sort of. Here's why!
Previously, the game's entire version number was used to determine the compatibility of levels. The rule was simply: If your game version is lower than the version of a level at all, then you cannot play that level.
But as Levelhead approaches the full launch, we're going to be on lots of different platforms, and those platforms will, at times, have their versions slightly out of sync with each other. We want to make sure that just because we deployed a small bug fix on one platform, doesn't mean that levels made on that platform are now totally unplayable on all platforms due to version mismatches.
So, this is where version management comes in! Starting two weeks from now, we will be updating our versioning system so that the last number (e.g. the "1" in 0.19.1) is simply used for small bug fixes, UI changes, and things that otherwise don't break compatibility of levels. Whenever the first or second number go up, those are major changes that would require an update to be able to play levels made in those versions.
This will give us the flexibility to deploy small bug fixes, interface tweaks, etc... across numerous platforms without worrying about getting everyone out of sync with each other. Then, we can try to sync up backwards-incompatible patches more reliably.
COOL, RIGHT?
THAT'S ALL, FOLKS!
That's all we have for patch 0.19! Oh, except for all that other stuff in the notes below. But other than that, THAT'S IT!
We'll see you next time!
See the full patchnotes, also if you have not bought the game yet, grab Levelhead over on Steam or download a free demo on Itch and make some levels :D