We've been somewhat quiet lately, but rest assured, we are putting our Kickstarter cash to good use! Now that we have hired two additional pixel artists to help out with graphic work, we can start putting more of our time towards gameplay mechanics and other nifty things.
Boss Preview - Serpentine
You may have spotted this in our video section already, but we've got a sneak peek at Fortune Night's boss, Serpentine, and one of his various robotic death machines. Needless to say, as the game progresses the boss battles are going to ramp up in scale and intensity.
In some cases, like this fight, the other player characters will jump in to help you heal or dish out damage to the boss. It's only in special instances, though; You'll be on your own for most of them.
Graphical Overhaul
We are also hard at work on revamping the game's graphics, and our pixel artists Matwek and Argyle are doing a wonderful job. Check out what we've done so far!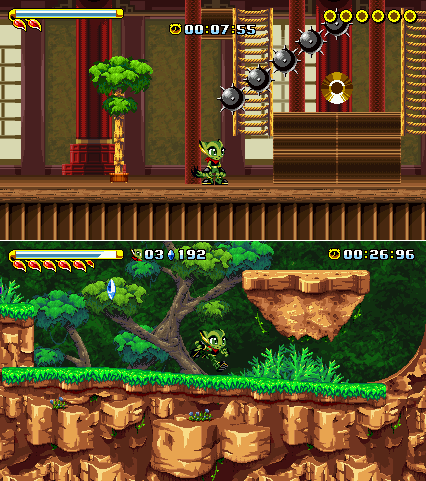 At the moment, Carol is the only character whose sprites have been revamped. We'll be working on touching up Lilac next, followed by all of the objects and enemies that appear in the public demo.
Demo Update Coming Soon
Speaking of which, we're itching to update the demo with all of the fixes and tweaks we've made since its release, and at that point, all we really need to do is wait on the pixel art. Until then, we hope you stick around!