Vast Void Boss Gameplay
We're moving away from the little too cryptic and random mechanics of the RymdResa boss encounters. The boss gameplay in Vast Void will instead be classical turn-based RPG inspired battles where you need to negotiate with the bosses and manage your resources to survive.
See the boss designs here: Boss1, Boss2, Boss3
We've reached a playable state that we continue to work on.

This GIF shows an early work in progress of the boss gameplay. The player uses action-points to activate the shield, unfortunately, the boss uses a special ability that removes the shield and reduces the player's action points.
Translations
Community translations are moving forward in a great phase.
We've three parts available to translate and we've gotten a lot of help so far! That's Amazing!
These are the available parts:
Diary Pods - The pilot's main voiced narrative.
Exploration Quests - These have the most complex structure as each quest can have different outcomes.
Special Quests - These are the chapter 1 goal texts, the Japanese parts look amazing!
You can reach the translation documents here.
Thank you so much! We continue the work to get all parts (like the new boss battles, UI, options, info about items and research etc) of the game translated.
We're not that active on discord right now so just leave a comment in the translation sheet if you got questions and we'll respond faster.
Don't forget to leave an alias or email so we can reach out to you if you do community translations. And professional translators feel free to reach out to us.
New Shirt Designs
We're experimenting with three new shirt designs based on the graphics for the bosses that we created in our little custom animation editor.
The shirt we want (long sleeves baggy) is only produced in the US, so shipping to, for example, Europe takes a little longer. Usually, the shirts are shipped based on the region you're in. However, this isn't possible with this type of shirt which only ships from the US. Unfortunately, customs toll may be applied in some countries (we've seen that when for example shipping from the US to Sweden).
We're doing some test-prints right now to see if we can reach the quality we're looking for.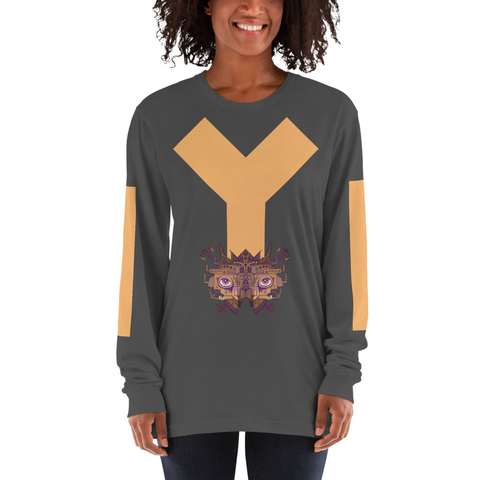 A potential shirt design based on one of the bosses.
Game builds
We've Vast Void running right now on Mac, Win, Switch, Xbox One, iOS & Android. We still need to code some custom stuff for file-systems (as they differ per device) and do optimization but the core stuff like rendering, audio, input/gamepads, gameplay, and video playback is there.
We even tried raspberry PI ( that isn't happening :-p) all though the rendering works there.