Happy Patch Day!
Hey, Levelheads! Welcome to patch 0.61: Boombox Revolution! This patch, we put a lot of time into cross-platform bug fixes and features to inch ourselves closer to the full launch, and we put a healthy dose of vitamins and minerals into the game's UI. Plus, we have some fun new Boombox surprises. Let's jump in!
UI Updates
This patch we set out to do a repass on most of the game's UIs in some form or another. Many of the UIs were unfinished, or they weren't cohesive with the other UIs in the game. Some UIs took a bit more work than others. The Settings page, for example, has been completely rebuilt!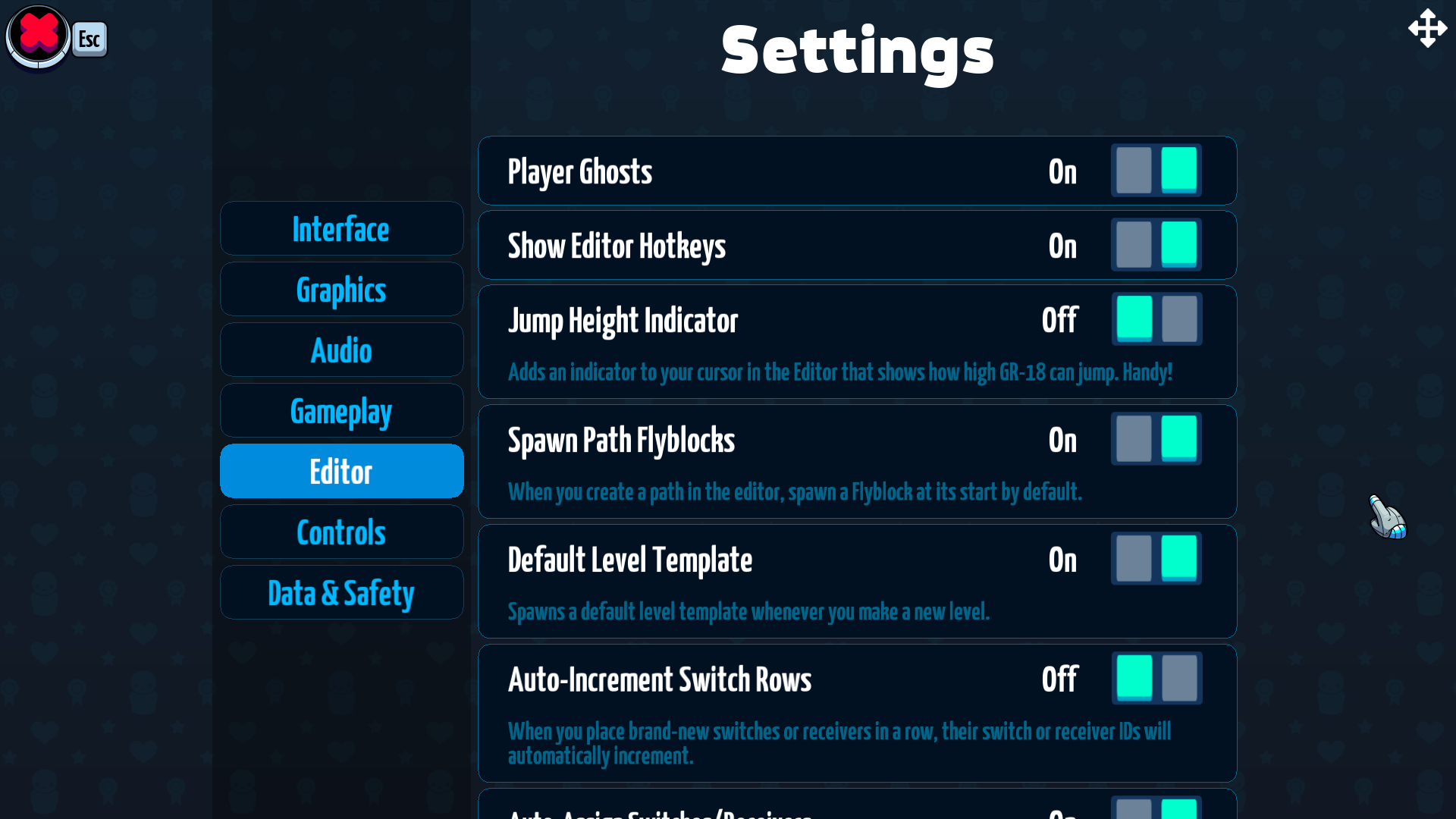 You will also notice small changes all over the place, from the confirmation windows that pop up, to the downloads page, and everything in between. After this patch, we're feeling a lot better with how the game's UIs have shaped up!
Icons Galore
We added Icons to the game several months back, and we gave players the ability to use these icons both as personal avatars and on their levels. However, we felt that the original implementation of the Icons system wasn't quite where it needed to be. There weren't enough icons, and the system wasn't integrated with the rest of the game effectively. So this patch, we blew the icons system out of the water. For starters, we added over 100 new icons!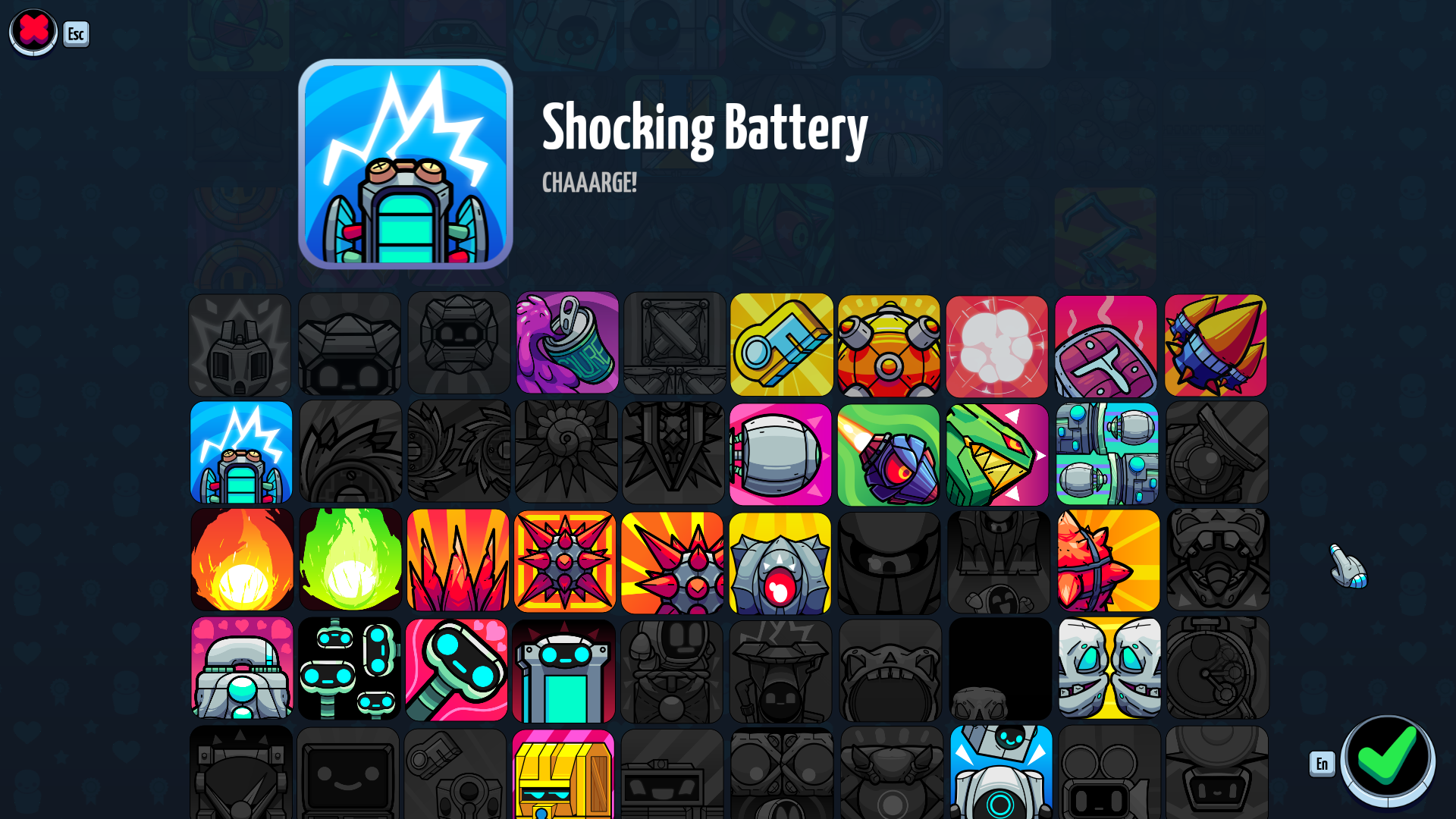 We also made many of the new icons unlockable, either through achievements or through the game's Training campaign. Yep, that's right -- Training unlocks are BACK! But they're all cosmetic, so... it's cooler this time. More on that later!
To drive home the power of the Icons, and to make your levels more easily distinguishable from one another, we updated the Workshop cards to prominently feature the icon for your level.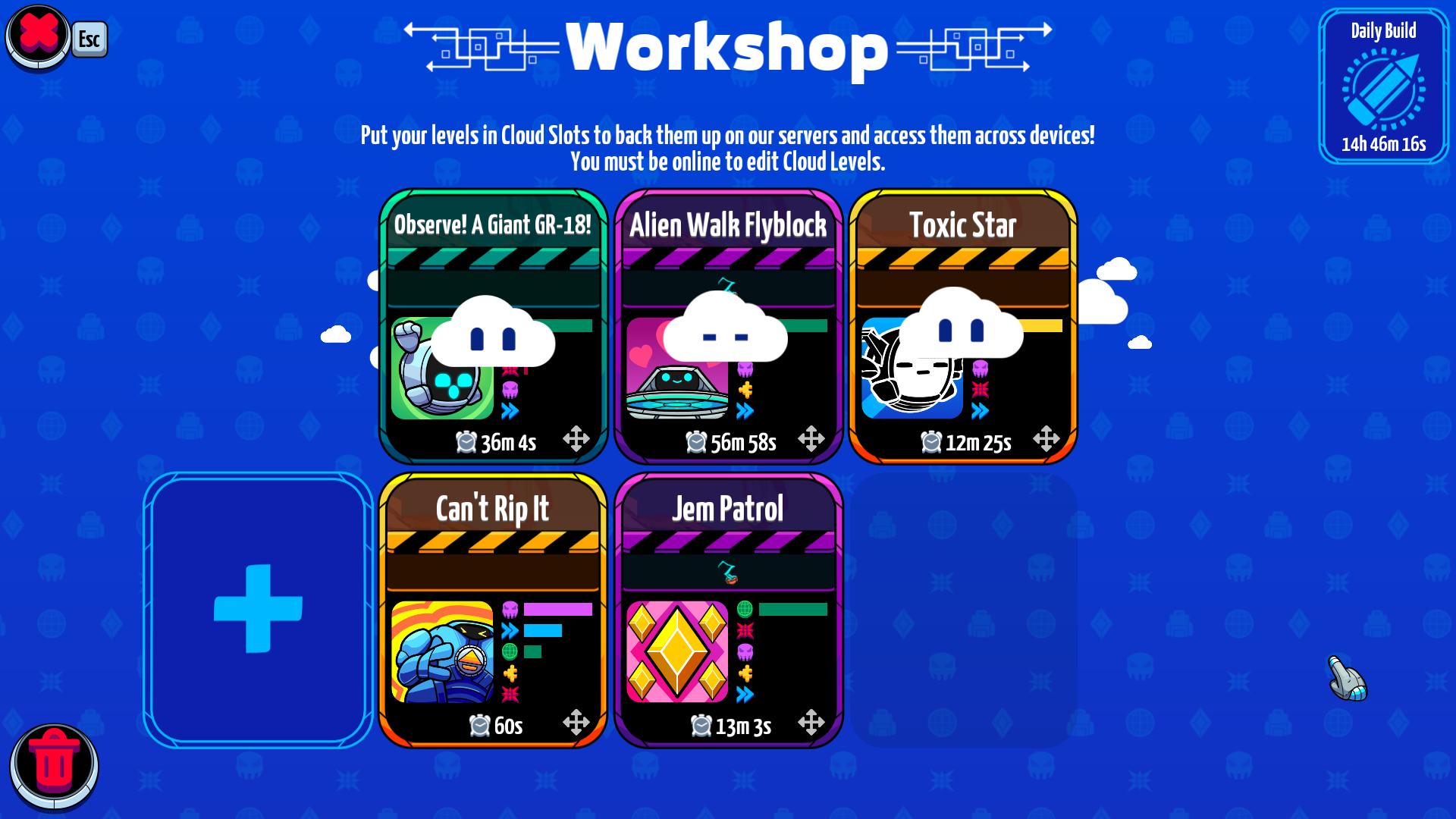 And we added a small version of the icon to the Editor's bottom bar!

Overall, this suite of updates has taken the icons system from a sidenote, to a much more robust and center-stage feature.
On-Time Delivery Bonuses
One thing the campaign (now called Training) has been missing all this time is replayability for speedrunners. Over the past couple weeks, we went through all the campaign levels and established On-Time Delivery Targets. These are benchmark times that, if you beat them, you get awarded with the On-Time Delivery completion for that level. If you want to know whether you still have to earn the On-Time Delivery for a level, just look for the little green clock!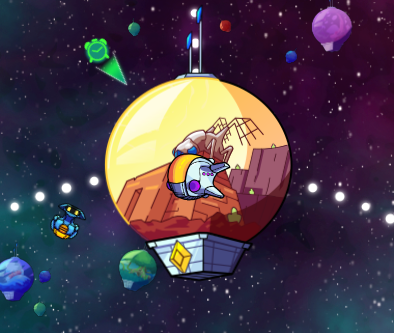 After going back through and trying to beat all the On-Time Delivery benchmarks, I can safely say that this is a nice breath of fresh air for the Training aspect of the game. Some of the levels have pretty tight times, while others require you to find some kind of shortcut. All in all, we think our players will have a lot of fun with it!
VEND-R Bots
When we first created the Bureau of Shipping Training program, players unlocked items that they could then use in the editor. Those items were stored in odd-looking objects that we called "Requisition Centers." However, the game had no public lore about what these things were, and our players had a hard time talking about them, since nobody knew what they were called.
In this patch, these problems came front-and-center when we added the Icons into the Training as unlockables. Because suddenly, the Training map was once again covered with these weird, confusing unlockers! So for this patch, we blew up those old Requisition Centers and replaced them with something that has a bit more character: VEND-R bots!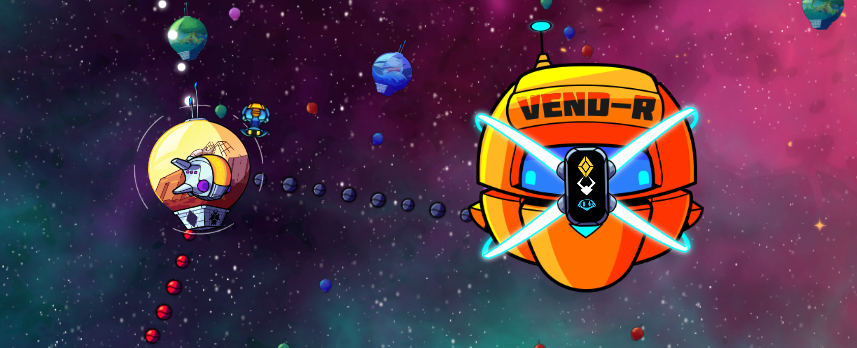 For starters, these little guys have their name written right on their face, so it should be a lot easier to know what the heck they're called. As we approach 1.0, we'll have some lore tidbits in the game that will explain more about what these things are and why they're out there. But... one problem at a time!
Boombox Party
Every now and then we have to take a step back and reimagine how an item works. In this patch, we decided to take a second swing at Boomboxes. Boomboxes are the little stereo-looking items that you can have play custom notes. We posted a little preview of some of the changes that would be coming to Boomboxes last week, and now those changes -- and more -- have arrived!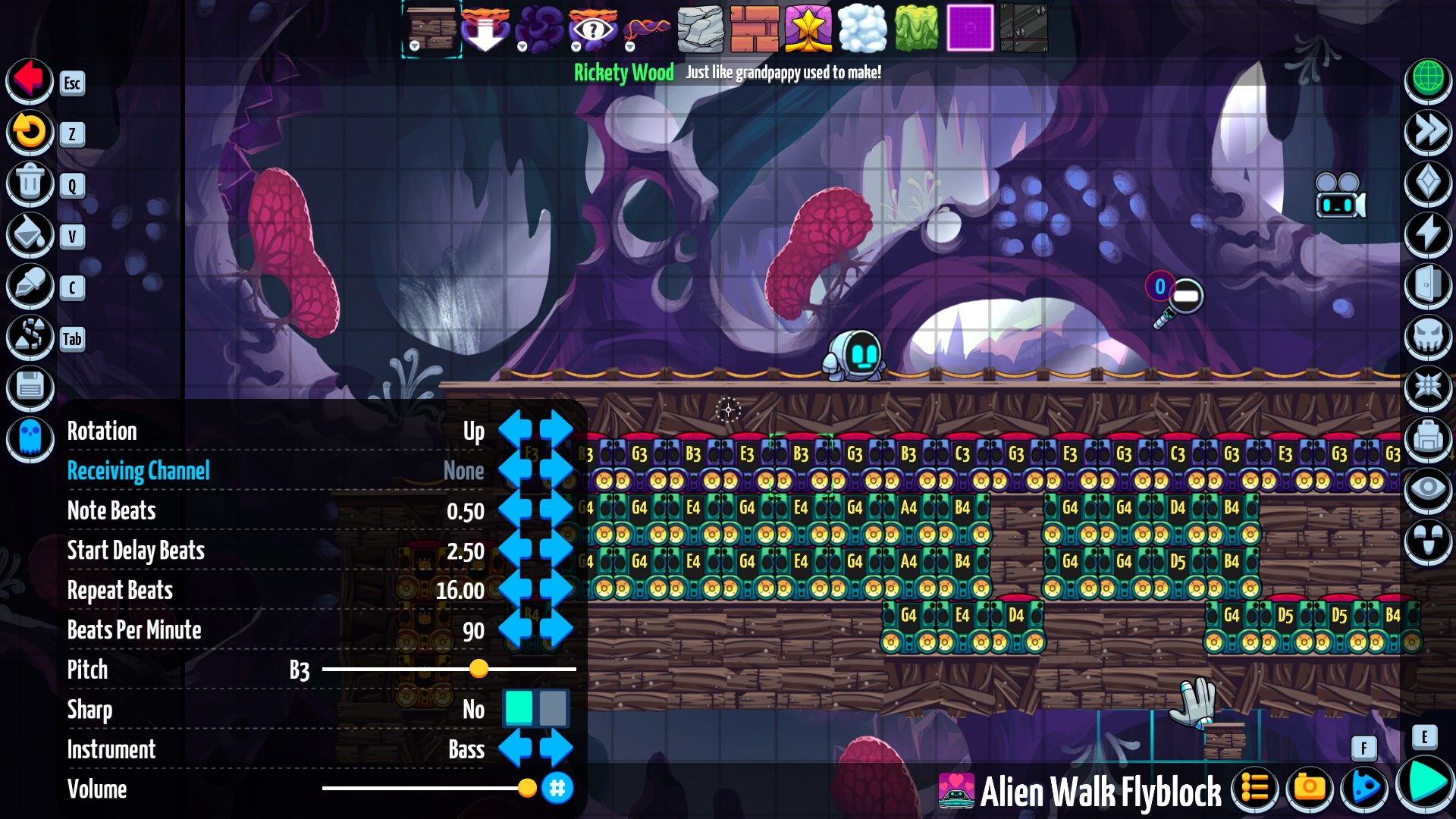 We've expanded the pitch range of boomboxes so you can recreate your favorite songs more easily. We then gave them note durations, repeat beats, beats-per-minute, and start delays. But perhaps most importantly, we've added percussion! Yep, that's right -- you can now deliver SICK BEATS to the players of your levels!
Oh, and just for kicks, boomboxes now vibrate when they're playing a note, so you can more easily tell where the sound is coming from.
We think Boomboxes still have room for improvement, but this patch has elevated Boomboxes so far above where they were before, we expect that we'll be seeing these cool gadgets getting a lot more use going forward.
It's the Little Things
Aside from all the above, we managed to pack a ton of little quality-of-life updates into this patch. For example, we added a menu to the Editor, so you don't have to start playing the game to change your settings -- and so you don't accidentally exit the level by pressing "B" on your controller.
We also made it possible to manage your bookmarks from inside the game, so you can mark a level that you want to play later, without needing to favorite it or doing some other weird workaround.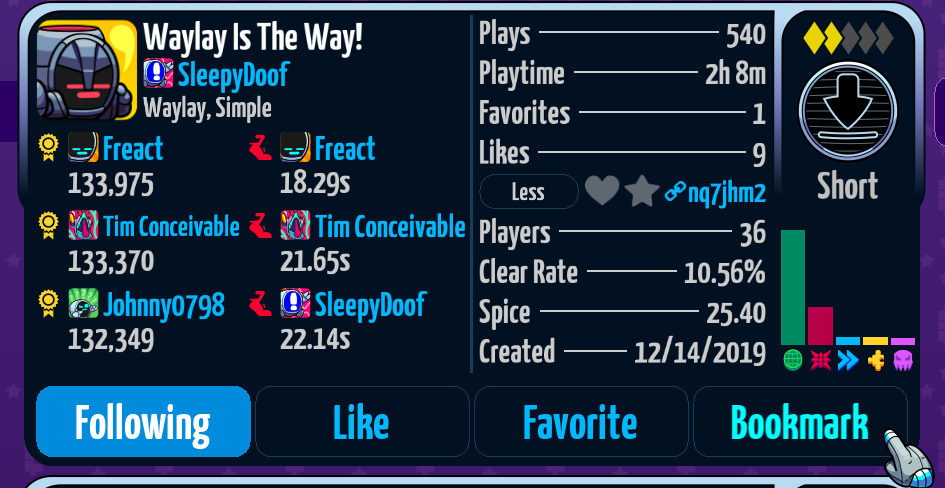 Plus, that means you can now un-bookmark levels from inside the game, too! So once you've played a level, you can get it out of your Bookmarks list if you're the kind of person who likes to keep things tidy.
We even added some new settings, like a checkbox that lets you tell the game to not spawn the default level template. Many experienced level builders prefer to start with a blank canvas, which means the first thing they have to do when building a new level is to delete the default template. Well, not anymore!
What's next?
There's a lot more in this patch than what I've listed above, so if you want to really get your hands in there, just read the patch notes!
Our next patch is slated for January 22. We're still working toward our set of 1.0 features, so some of our time will be going into console and mobile features and fixes, but we also aim to have Multi-Select added to the editor for the next patch. We'll also be working on some updated moderation tools, and some improved social features such as the ability to "Dislike" a level -- we'll have more on that later!
We'll be out of the office from December 25 through January 1 (one week) for holiday break, and then we'll be back in action! So you can Expect the first Dev Blog of the next patch to drop January 8.
If you want to know more about patch 0.42, read on!
See the full patchnotes, also if you have not bought the game yet, grab Levelhead over on Steam and make some levels :D