Blood? Doesn't sound well, does it?
I know, i know, there had to be a limit for age.. But now it's even more restricted because kids don't go well with blood (usually throw up or start crying), but yeah.. It's still pretty cool to have some particle fountains in the game (i don't mean crap-loads so you can't run game well with the enormous lag).
This feature isn't important. Maybe. But it must be! (Kids, again, age restriction and such) Because i don't wan't to get sued by my friend brothers/sisters that accidentally wen't to play the game and saw bloody gore pouring the screen. I'm not serious, just a little.
Here's a picture (Spoiler alert! Hide your kids!)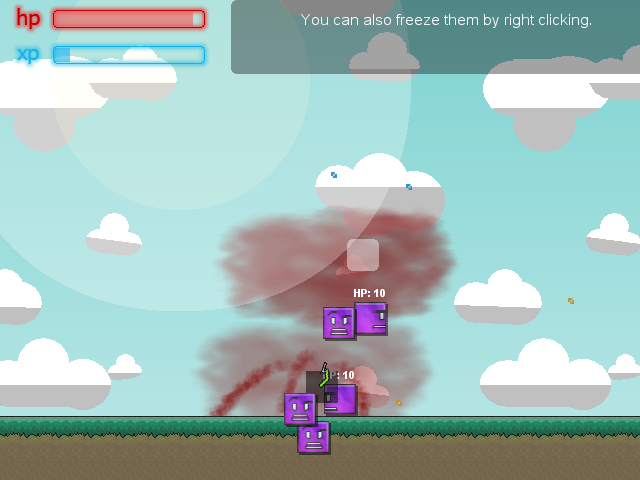 Total mess. But you can see the actual blood anyway. It's currently work in progress, it will have some prettier effects but it uses in-built effects to make blood at the moment. How it works? Well you don't get the blood stains unless you shoot the dead body twice. This means there will be no blood unless you shoot at the dead monster again so you end up actually shattering him.
This is creepy, i know, here's some explosion particles: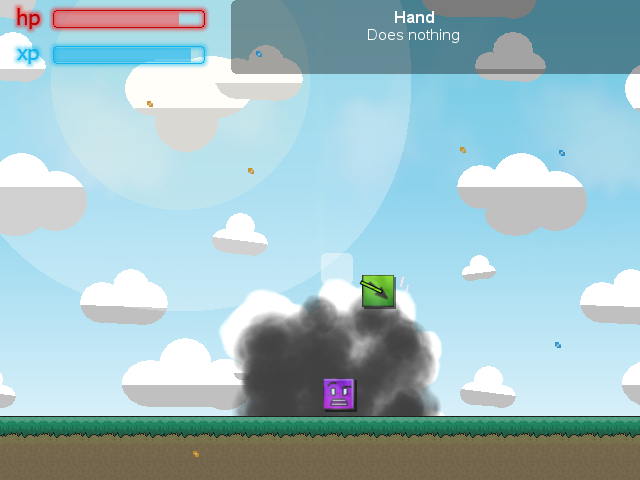 It's not only the smoke. If you look closer you can see all the cool things about this new explosion effect. It's not a sprite, it's a particles. Because i thought this would be more professional.
SNAPSHOTS ASAP!
You guy's have been so patient, waiting for the update, and some of you actually tried to find my accounts where i host files to get the version early.. This is awesome, but i don't like how it is right now. We gather members by posting news, but what do they get? Only news? Naww, that's not interesting. It's actually a real trend to post snapshots of game that people can download.
I thought i could get more reviews on the game, so i will possibly post the first download link tomorrow so you can test, and do it each week until full release. Keep on track guys! (It's only one day, i'm sure you can wait)
Android version
Okay, the game is so early to talk about it..
But it might be possible in future. Sorry iOS users, only ports will be available! I'm no expert on coding in iOS atmosphere!
Mac version
This is a must be! It will differ as well, because i will have to rewrite engine from scratch.
There's a lot of stuff going on. I'll let you guys know!