Hi, this is blog 44, welcome and please sit down. We have lots to show you.
---
BFD_Mesa
Gork and I had a good look at Mesa and had some fun, heres some screenshots of it.
---
Civillian House
Wciow has model us a nice looking house for a map prop.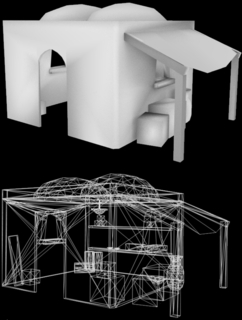 ---
Ordos Refinery

Fluffy-Opossum has yet again been busy modeling, this time he has modeled for us the Ordos Refinery. The Refinery is the basis of all Spice production on Dune. After collecting Spice, your Harvesters unload it into the Refinery. From there it is converted into Solaris. You must keep a steady flow of incoming Spice in order to have enough money to purchase new buildings or units. For each Refinery built, you will receive one Harvester & Carryall.
---
Team Notices

I have been working and playing more Warhammer online (its abit addictive :x)

cnc95fan has started up a Age of Empires 3 clan with 5 of his school mates!

-FW-Whit3 has been busy making us forums skins, the Atreides one is done!
---
Thats all for this week. Come and check us out over on our forums at www.battlefordune.co.uk