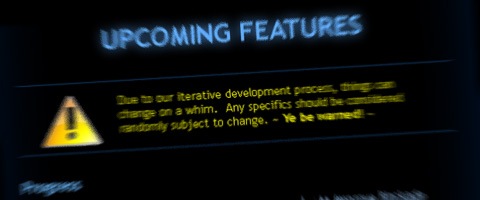 We've informed most of the IRC crew of the progress that's been going on with Blockade Runner, however there's a lot of you who don't visit the IRC and are anxious to know when's the next update and what it will contain.
And so as an easier means for everyone to be informed, we'll be adding a single page to the website for everyone to go to find out the latest features being added to the game aptly called, "UPCOMING FEATURES!".
Should be up tomorrow. Ish.

Why not just use the blog?
News updates on the site are wonderful, but they can end up buried in a hurry. We'll still be doing news articles for more in-depth info on individual features, we'd just like to have a niftier place to go to get a summary.

So when is the next update to BR?
We're doing a lot of timey-wimey overhauley kind of work, and so a public release will be out when when it's ready. We've got a lot of bug fixes in the latest version, so test builds will be available on the IRC and forums much sooner to shake it out.

When will there be regular updates again?
This particular upgrade has a lot to do with solo/multiplayer and stability. With that end resolved we return to your regular scheduled program of weekly/bi-weekly updates.
- Aaron