Today's Progress!
Past few days we've been following E3 (/2nd Christmas!) while still hard at work fixing editor and multiplayer bugs in preparation of the free LITE edition of Blockade Runner! Nathan's been working on editor bugs while Zack's nailed the multiplayer and we're hoping to do a thorough playtest by Friday.
Hopefully we'll have the release ready by this weekend, though if we're still cleaning up by then we'll probably issue out a patch through wyUpdate so everyone can at-least get some of the fixes before the full release is made.
Multiplayer Fixes
A few of the key multiplayer bugs we're working on right now is making sure entities will behave properly when players leave them. The server needs to seamlessly step and take over for the player, handling collisions, etc and the system we were previously using for this handled it a tad poorly.
In addition, we've also got to make sure the new character physics and gravity play perfectly nice when jumping between the ships. Character mechanics (i.e. inventory, on-screen items, operating consoles, etc) are planned for next week to further flesh out the gameplay elements of Blockade Runner.
"Loading" Ship Effect
Special effects aren't necessarily priority at the moment, though we're already looking into some effects for when a player joins a game in-progress or jumps into a sector with players and needs to download their ships.
In the Long-term we'd like to have your ship appear naturally as possible and as quick as possible, but barring a speedy connection we wanted to make sure you see *something* of a ship while you're downloading its data. Below is a little mockup with having every 16 meters represented by some bright "warp" flares!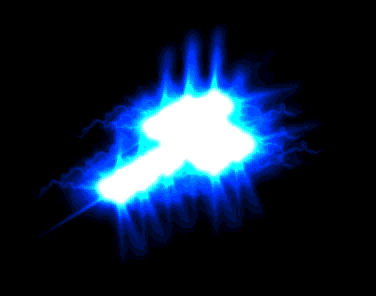 Who's that Pokemon!
Inanimate objects like un-inhabited asteroids will likely have a darker "shadowy" look while they're downloaded; we felt however that player-owned ships should draw a bit more attention.

Community Prefabs
A power core and a medikit by MrVorgra, as well as Helm Station by Micah!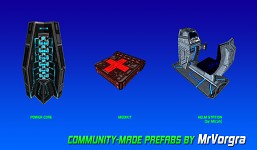 E3
We've thoroughly enjoyed all of the E3 coverage this year (great to see the indie Minerwars get some lovin' by IGN!), especially the live-streams for PlanetSide 2, sequel to one of our all-time favorite games.
How about you though, anything in particular stand out?