Part 4 of Stuff Plus's series of building videos for Blockade Runner!
Coming up in 0.71.0!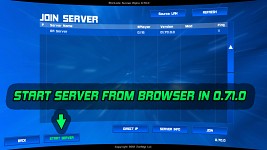 One of the new things in 0.71.0 is the ability to start the server from within the game! We're also working on a options screen before launching the server where you can easily set all of the settings.
---
The Mazelion Assault Frigate by Imaus
The Mazelion Assault Frigate from the Ravion empire, made by Imaus, using Blockade Runner's Editor!
"This ship is one of the most common ships in the Ravion empire, its 7 thrusters give it great speed while its many side mounted guns give it the firepower needed to hold its own in a battle. It is adorned with warpaint and a massive horn to strike fear into other captains, ramming is a normal tactic for this ship.
This ship while very common in the fleets of Ravion, it is known to be a great solo ship. Its fighter bay allows it to fend off other fighters and its speed and many weapons allow it to explore space without fear of what lurks deep in its void."