Data Editor
We thought we could manage the items (yes BR has those now) and blocks by hand through the individual .XML's for at least a little bit, but after painstakingly making a bunch of changes the other day we decided it's about time to make a rudimentary editor program to make the process far less time consuming.
We'll be basing the editor off of WarCraft 3's Object Editor, which despite a couple of its shortcomings is probably the most convenient data editor we've ever used for modding a game. It's simple, modular, and doesn't require us to re-invent the wheel to get a handy-dandy data editor for Blockade Runner!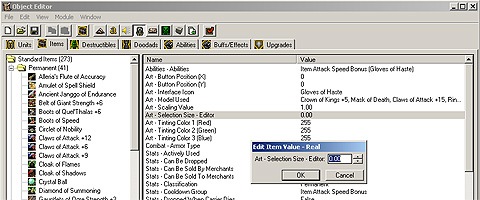 GitHub
Not sure how many of y'all would be interested in this, but we're thinking about providing this editor's source code (its just a basic C# app) on GitHub so other coders could make their own tweaks and upgrades to the editor if they like.
I know that I would personally love to see some of DayShine's rendering functions integrated!
Update on the update?
And before you ask, the update on the update will be available pronto, I just got caught up in some unexpected developments with Gabe.
- Aaron