Hey all! It's Jay, still a bit under the weather, but back again and ready to go! This week, I figured we could talk about Collapsus! Lets go!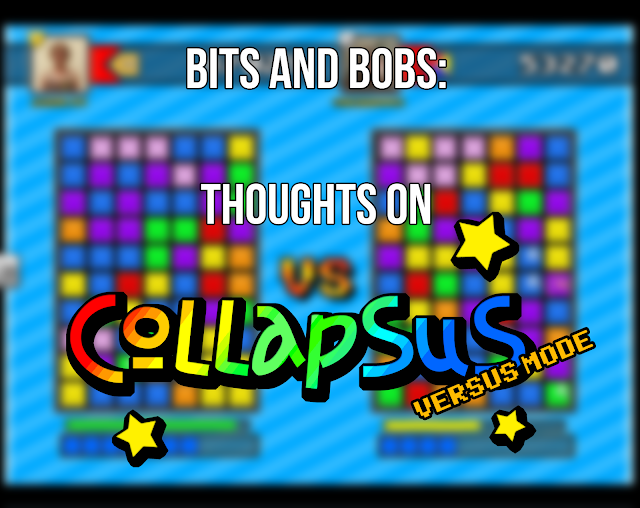 So, we decided to take a little break from the other game we were working on, Radarkanoid (though we've still been working on it sporadically), because A. both Kristy and I were sick (and we're the only ones working on it) and B. we wanted to prevent burn out of such a small project (there are some um... "interesting" code/math problems that we're overcoming and since it was supposed to be a quick project, it was more than a bit frustrating, to say the least. We'll get it, though).

In the meantime, we're back to Collapsus (though, to be honest, we never stopped, we were working on it in tandem with Radarkanoid). Most of what we're doing right now is actually work on the Versus mode. You know, the Versus mode. Like Puzzle League, Tetris Friends, Puzzle Fighter or Puyo Pop. Those are all really, really solid games on their own, but having a Versus mode really brought them to the next level (no pun intended)!

Collapsus is already a pretty content-dense game as is, and at risk of invoking feature creep, we feel that such a mode is just too awesome not to include. Aw, who are we kidding! Feature creep has been an issue day 1 of the project back when we started it in 2006. A decade. Huh. Wow. Now I feel old. Anyway...

How we have the versus in Versus mode working is the better you do, the more "junk blocks" go over and clutter your opponents' field. Yup, note that apostrophe placement. It's not a typo. We're working with (at least) up to 6-player battles! Maybe even more, if we can. Still testing the waters on that one. So yeah... as I was saying: junk blocks are kind of a staple in the multiplayer puzzle genre and with the mechanics we use in Collapsus, it just felt right to use them.
We originally had the junk blocks be just singles, just like any other block and regardless of who sent them (or what field they were on) they'd be the same color. We figured after a while that both of those ideas were a bit dull, so we're experimenting with junk blocks that merge into one-another, complete with color coded, per-field aesthetic!
Yeah, we know, as has been pointed out on Twitter, it kind of looks like a pair of underwear, but more patterns are made depending on how they're merged, this is just a coincidence :P
On top of that, we may finally have a layout for two player!
We think it's pretty sleek. The version of the screen with even more players will have a bit of a different layout (and multiplayer is only available on devices with screens that can comfortably support it, as well), but this is a good guideline of how it'll probably look.

On top of that, in our design room (and over Twitter) we've been discussing how we may do a chat feature. Seems that emotes may be a fun way to do it. We should have some of those early ideas up on Twitter soon.

It's all pretty cool stuff, if you ask us! We're trying to keep these matches pretty frenetic and interesting without altering much of the core gameplay that those who have played it have grown to love. Like, why would we make it too drastically different and still call it Collapsus!? That'd be crazy! So, for the most part, other than the addition of junk blocks and new power-ups (which we'll get to in a later article) we've tweaked some of the original power-ups to do things to your opponents as well in addition to their normal, single-player effects. We're keeping the transition simple. Collapsus is best when it's simple!

We can't wait to get something playable out to you (probably in the form of our free, online weekly builds) but we'll probably have a new trailer before that. After the weekly builds start, hopefully (again, hopefully) we can get that Kickstarter campaign out the door and then working on the mode specific trailers after that. So exciting!

We hope that you can't wait to see (and play) it as much as we can't wait to give it to you! Next week: Something completely different (probably)!