Hi folks,
I spent the week mostly improving the level system and thus the performance as well as the overall aesthetics of Blue 13. I wrote some neat shaders to give a more spacey look to the game. There are animated particle effects now that looks really cool and give much more density to the levels. I also tweaked colors, made some life forms glowing and stuff - though this is not really final atm...
Best would be to show you guys and girls some pics i think!
I defined the 3 game worlds to look more different and unique to each other
and give some variability during game play.
In this update you will be introduced to the new look and feel of the Deep Sea Cave Levels: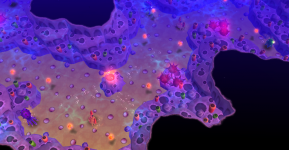 This screen shots are taken from Level 21 of the Deep Sea World. The screen shots were taken during different states of development so they may differ in quality.
The Interface is currently redesigned as well as some game play elements that are depending on it so don't wonder why there is none at the moment ;)
One great news in the end - i talked to an good friend of mine composing music for some gigantic amount of time. David made some music for a couple of personal Projects and prof of concept demos in the past and will now contribute the music for Blue 13. He already has composed tons of own tunes and remixes. So we all may enjoy the game on a acoustic side too :D
Check out some of his stuff here: David Bashingshield on Sound Cloude
That's it for now. Stay tuned for the next update as well as the (asap) upcoming Demo and tell me what you think so far! Don't eat boogers and have a nice day!
- Storm