Big Heading!
---
I've decided to take up using big headings in order to draw more attention to my posts. It's sure to execute flawlessly.

Anyways, let's talk about multiplayer. A lot of games these days have multiplayer. You know the drill, find someone with a server, join their server, play around a bit, log off, and wonder to yourself if this process could be any better. Could you ever get more enjoyment out of your online multiplayer games? Well I'm to tell you there's a better way! How, you ask? You wait an nondescript amount of time for Questica to come out! Just hold on to your seat and stare at the computer screen for a while until you get in to the private beta!
Eye-Catching Title
---
So what's different about multiplayer in Questica? My personal goal for it is to capture that feeling you get from sitting around a table with your friends making up characters and adventures for them to go on while the one douchebag at the end up the table decides all your fate using only their brain and a few dice.

So basically there will be two main multiplayer modes: random adventure and dungeon master!

In random adventure you all join up on a server and all play a randomly generated adventure where you work together and tackle obstacles.
In dungeon master mode, whoever is running the server gets omniscient knowledge and omnipotent power over the world and everything in it. They can craft a story for the players to work through and build a world for them to explore (using the random generation tools to help out). They can spawn raids and create NPC characters with personalities, add their own items and weapons to the game specific to their story, and control the weather patterns. Now that one friend who's always the DM can be even more of a douchebag all the time!

But that's also what I think is great about this, nearly no limitations will give people the power to be as creative as they want being able to build exactly the adventure they want or to run into fun random occurrences no one will be able to expect.
The Pudding
---
As we all know, the proof is in the pudding, so here's some nice tasty pudding for you all. I even used whole milk!
I've been changing how the movement gets transferred over multiplayer recently to allow for much smoother appearing movement with as little latency as possible. Since this game isn't *super* action oriented, a few tenths of a second shouldn't be an enormous deal (but please tell me if I'm wrong).
Here's a gif of one dude walking around another dude so you can see how much lag there is over the internet: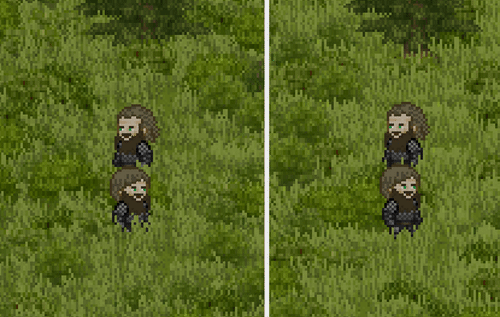 Now for the world editing and server management. This part isn't super complete yet, there's still a long way to go, but the basics are in. The person running the server can open a menu on the right side of the screen to place entities, edit entities, build houses, etc. All of the entities loaded into that panel are all the ones in that entity folder (from a few updates back), including all the entities added through mods. Anything added by the person running the server will automatically be added for all the people playing the game!