So as many of you may or may not know, gundam having it's own economy will remove it's ability to have a single player AI to fight. This problem has been solved via the introduction of a LUAai which is now part of gundam. The ai creates spawn points that every so often enemies will spawn from leading up to a fight with a flying battleship. I have spent the better part of the weekend adding effects and working with quantum to add this feature. So MAD PROPS TO QUANTUM!
It should be noted that while this is called an ai, it merely spawns enemies for you to fight/defend against. In the future I may make some maps geared towards this gameplay style so you guys have something to beat up on. :).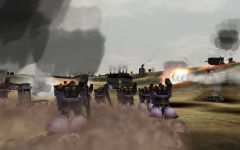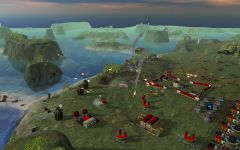 Aaaaaaaaaaaaaaand pics of said ai stomping me.
In other news the effects work continues, things are looking better and better, I have already removed the ugly smoke particles you guys saw last video and many more effects have been added and tweaked. Work continues and it is slow but the focus is on quality. No videos this week as I am slowly working away on them but the black cookie cutter smoke has already been replaced.
I have been so busy that I have been unable to take more updated shots and make you guys a video. I hope you guys can forgive me. Enjoy the pictures, I hope you guys look forward to this, it is really turning out to be great.