Hi everyone! I figured it was high time I posted something so here goes.
First things first, I'm Gabriel Acosta and I'm the lone developer of BHB. I've been working on it, oh just over a year now and it's been progressing surprisingly smoothly (for a one-man team anyways). It's also going to be my first official game, so working on it has been quite exciting.
A bit about the game, the gameplay basically revolves around hunting down and destroying special target enemies (the orange glowy gassy things) in order to move on to the next stage. These enemies are scattered throughout the level, and getting them all will be quite the challenge. Along the way you'll encounter lots of different obstacles, traps and alien creatures. While this is NOT a metroid-vania type game, the individual levels themselves will generally be relatively non-linear; you can explore the levels as you like. The gameplay also involves the use of physics game mechanics, such as jump pads, bounce pads, hover pads, the ability to walk up walls and mini-black holes that that suck you (and anything else, including enemies) into orbit. The physics mechanics add a lot to the typical platforming elements you usually find in these games, so it's something I've had a lot of fun with. And lastly, I'm targeting high-end computers so we can have nice shiny visuals.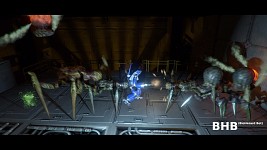 If I was to describe the game in mash-up terms, I'd probably describe it as sort of a weird cross between Yoshi's Story and Dead Space.
So...yeah, stay tuned for updates and screenshots and lets see how everything goes! I'll hopefully have a gameplay trailer up soon. Thanks for reading! :)