Hey Guys,
the BETA 1.4 now released and we have a new Type of Blocks, more Blocks with the maximum High and other Improvements!
If you have another Vision Runner BETA allready installed, just install this BETA in the same Directory! Otherwise you can install it where you want!
In the BETA 1.4 we added the following things:
+ A new HD Skybox (the Sky is much more beautiful)
+ New Ground (the Ground under the Blocks is now Water, instead of nothing :D )
+ Improved Checkpoints in Multiplayer (Restart at Checkpoint, but you can also restart at spawn)
+ Maximum checkpoint number increased to 15
+ You must now Play the Map and reach the Finish to Publish your Map
+ New Roof Block (you can run on the Roof and also under the Roof, so you can make Tunnels)
+ Almost all Blocks are now available up to the maximum height 8
- Improved Jump Blocks with new Jump Script (Short tap to jump, Sprint still needed)
The following changes:
+ A Game Character (currently you are a red Capsule :D )
+ Better Multiplayer with more Maps (Several maps after a period of time) and other Features
+ More Server Settings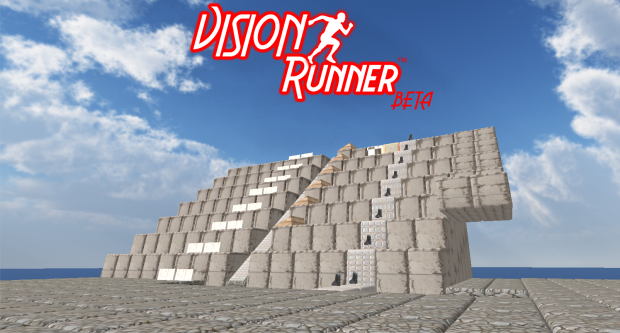 We constantly try to improve the game, but that's only possible with your help!
Please post Bugs and Feedback in our Forum here:
Indiedb.com
You need an Account to Play VisionRunnerTM!
You can register for free:
Visionrunner.vlbg-interactive.com
Thank you for testing it!
Greeting
Dominic
Lead Developer