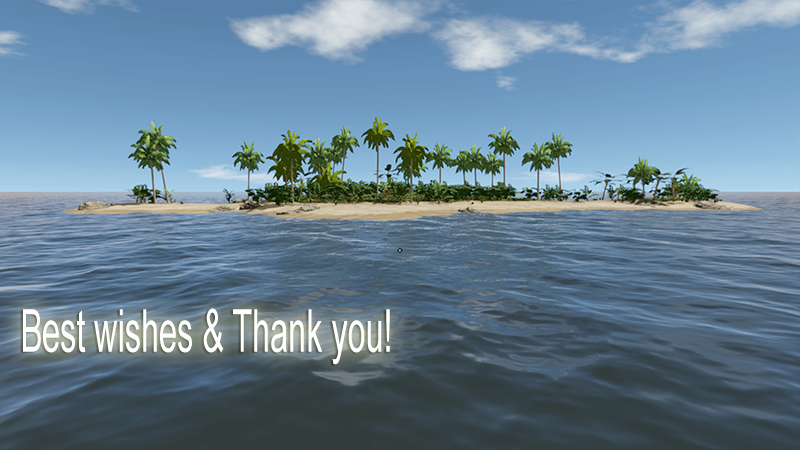 Hi everyone,
the end of the year is approaching and we would like to take this opportunity to thank you all for supporting us throughout the year! Thank you for your ideas, suggestions and criticism helping us making Escape the Pacific a better game.
This year we were still mainly adding the basic mechanics and functionality. Besides that the game content was also expanded with huge amount of new content. The list of new additions is long, so let's quickly summarize the most important ones: Dedicated pockets for navigation tools, Objectives mechanism, Many new collectible objects, Ship wrecks for looting, Primitive Shelters, Sacred islands, Big grassy islands, Grass build material & Build modules, Transport canoe, Attaching objects to Canoe and Raft base, Sailing UI, Fruit Regrow & Ripening system, Sextant, Pocket Watch, Sundial, Building degrade&repair mechanic, Stick&Frond packs, Plank build material & Build modules, Plant growing mechanic. On top of that: Open World, Island Clusters and Global Map. As you can see this was a very packed (and also busy) year with lots added the game, making it even more interesting and enjoyable.
As almost all of the basic features are already implemented (only a couple of them still awaiting implementation), in the next year we will continue to aim for expansion of already added features and adding even more and more new content: More collectibles and recipes, vegetation (also bigger, jungle ones), island types (bigger ones), animals (ocean and ground), quests, story elements ... There will be a couple of surprise elements too. Because of the fact the game takes place in the mid 1800's it offers a whole lot of possibilities to implement interesting and unique features. We hope that the community will continue to support us with new ideas, suggestions and with their positive energy so we together get to make our game even better. Some of the ideas we already received were truly inspiring and will find their way into the game sooner or later for sure.
Holidays are here and besides resting we plan to work on some new features and improving gameplay a little although working a bit less on our game.
Our next build will be released in January 2021, until then:
We wish you a Merry Christmas and a happy New Year!
Gamers4Gamers Team.