December 12, 2018
Progress note of version 4.0.7
German translation of the mod:
Completed at 60 percent (approximately)
Spelling and grammar corrections (French):
The translation into German has allowed to see a mind-blowing amount of French faults (though I speak French). So I corrected a maximum of mistakes.
Search for possible bugs:
Minor bugs have been discovered but none really compromises the stability of the game. The bug that made the game crash came from the joint use of two mods.
So right out of version 4.0.7 I will put in the description a list of compatible mods. For everyone, I would note the compatibility of 1 to 10. And I would list the effects on my mod.
Release date of version 4.0.7:
For Christmas or the week before.
December 04, 2018

Addition of the German language.
A translation of the mod in German is in progress. Currently 20% of the mod has been translated.
Hinzufügung der deutschen Sprache.
Eine Übersetzung des Mod auf Deutsch ist in Arbeit.
Übersetzungsfortschritt: 20%
November 30, 2018
completed:
Language files (French and English) for the Congolese focus tree.
Amended:
Belgian Focus Tree receives slight modifications and additions.
Planned:
Added missing languages. They will be added gradually. I use "TranslateHelper 2.9", although very useful this software is sometimes capricious. So each language will take time to be added. The first will probably be German.
Congolese focus: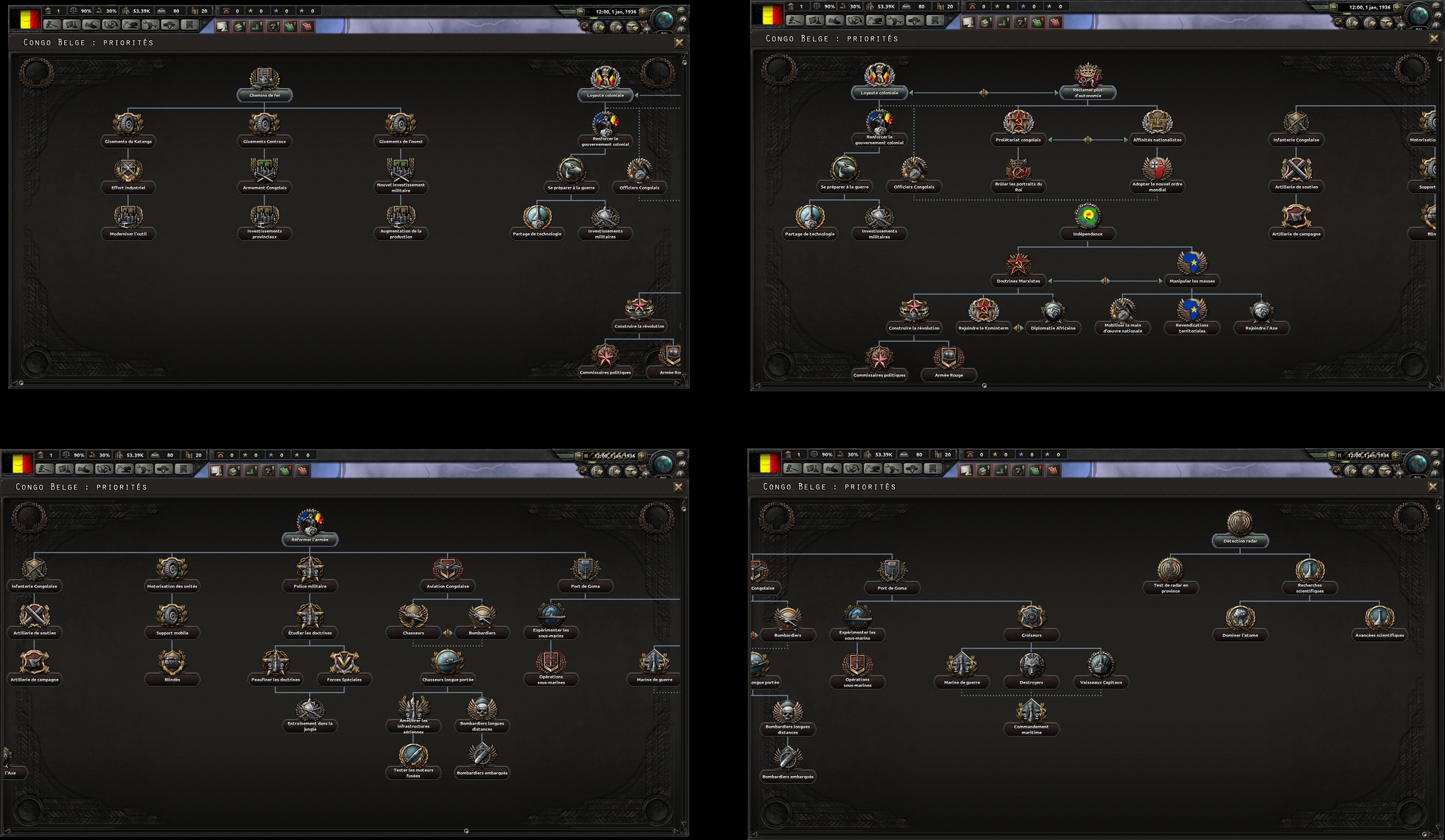 November 27, 2018.

completed:
1) Decisions on the purchase of weapons in the United States, France and Great Britain.

2) The decision to obtain the new military adviser.

3) The decision allowing the purge of the Belgian army in case of communist government.

In progress:
.Yml files for the Congolese focus tree.

Note:

A non-recurring bug sometimes crashed the game around December 1941. I have not yet identified the reason, probably a rarely used interaction. I will try to fix this bug for version 4.0.7
November 23, 2018

Belgian Congo:
Adding a complete focus tree for Congo: Done
Congolese generals: six are made with colorized portraits
Language files for the Congo tree: Planned for this week

New decisions for Belgium:

Purchases of weapons to France, Great Britain and the United States (Under development):
To respect the contracts that had been planned before 1939.
Purchased weapons will be added to Belgian stocks and withdrawn from the sellers' country. A decision by material.
Weapons planned:
French tanks, ordered in number only 9 were delivered
British light weapons: no historically proven quantity
Modern American hunters, historically 60 but never delivered.

Purge of the army (Development in progress):
If the government is communist, it will be possible to remove some generals (depending on the "politically linked" trait and / or "sympathy for fascism").

New military advisor:
Obtainable by decision, a new adviser will appear: theorist blitzkrieg.
Military Advisor: OK
Decision: Not implemented