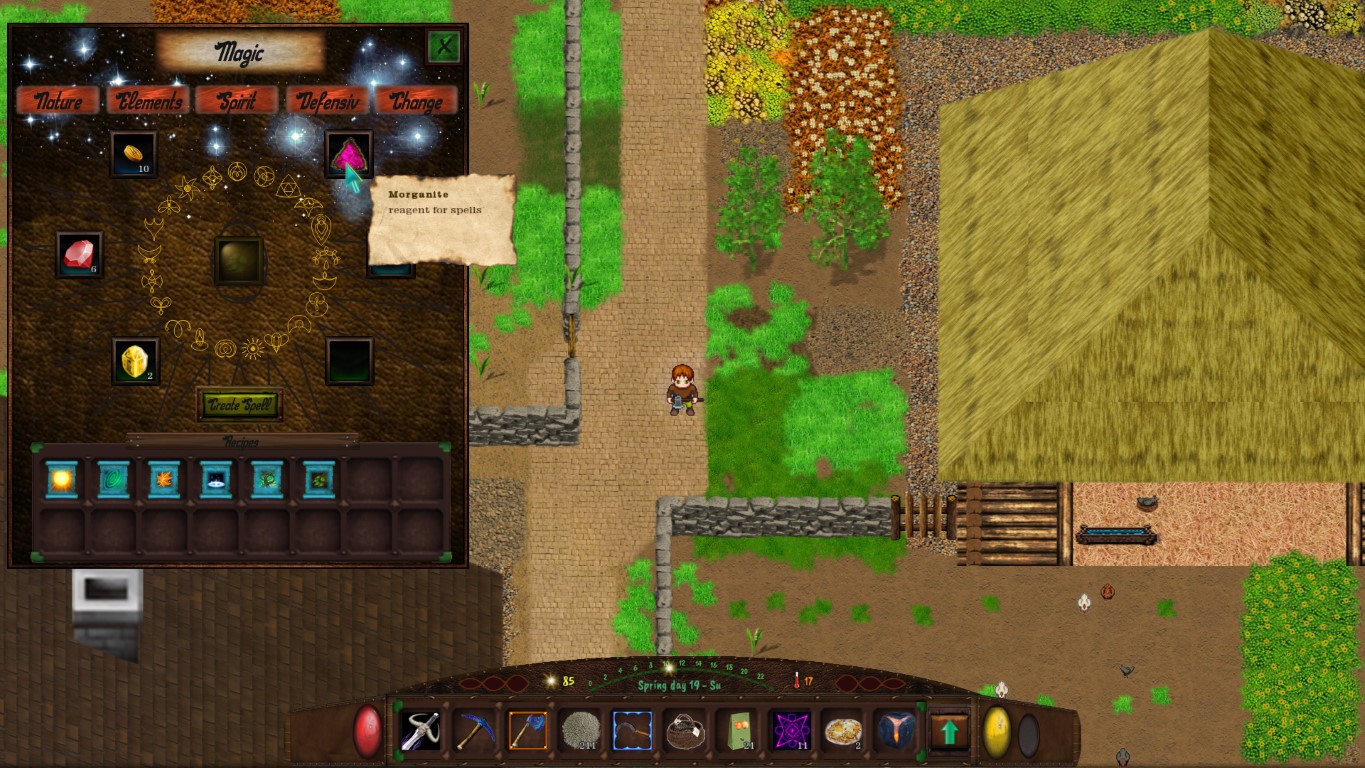 In this update I have finally taken care of the status GUI and redesigned it. Now everything is integrated in the quick bar and the rest of the screen belongs to the display of the world.
I hope you like it and don't feel too bad about the change. All functions are still available.
Also, I turned off the environment occlusion on the surface of the world. It didn't make sense there and didn't look nice.
The last major change concerns tiredness and presentation of cutscenes. Here the frame texture of the image section has been removed. Instead, there is now a smooth transition into black, which looks more harmonious and not so much like looking into a tube.
Below you will find the complete list of changes.
I hope you all enjoy the new features!
Jadawin

--------------------------------------------------------------
Patch Notes V1.37
Game:
- In Alfred's and Magda's farm shop you can now buy an animal whistle with which you can call all tamed pets within a radius of 25 fields (cats, dogs, squirrels, llamas) on your farm to you. They then show via emote whether they are already very hungry and you can feed them more easily.
The animal whistle can be used like a tool or activated with the Q key in the quick bar (blue frame).
- On the surface, I have now deactivated the environment occlusion, as it looked unnecessary and simply not nice there. This way the world is now even more different from the dark caves, which is good for the atmosphere.
- Tools (including improved ones) can now be sold at the merchant (no longer at the craftsmen).
- Some prices for raw materials and animal products have been adjusted to improve the balance.
- Some speed bonus values for equipment and permanent spells have been slightly reduced.
GUI:
- Removed the texture I had used to limit visibility (fatigue and events) and replaced it with a smooth transition to black instead. I think this looks better and is less reminiscent of a fisheye effect.
- For dialogues and speech bubbles I used a new font that is much more readable, which will surely please many.
- In the GUI, many small visual improvements have been made that increase readability and are more visually appealing. The fonts have also been unified.
- The main status GUI has been completely redesigned and all displays are now integrated in the quick bar. All functions of the individual sections and displays still work as usual.
Magic:
- When quickly casting the invisibility spell with the Q key, a check for nearby monsters has also been added.
Manual:
- Added text for the whistle.
- Texts for the new status GUI adapted.
- Some bugs fixed.