Footsteps echo through the sewers. Indicators report: three percent of health left. Not much. Checking the gun... Just two rounds. An armed troop of cultists comes around the corner...
…and this is my salvation! They are chipped, which means I will move into one of them. The one with the gun over there. Looks extremely attractive.
poor fellow
I will kill you with your own weapon!

The whole combat system is built around the mechanics of relocation and the constant change of the body of the enemy in which we are now. It dilutes this with a large number of unique enemies, with unique abilities (access to which we get by moving into them) and with a variety of weapons.
The cycle of battle in arenas in the first chapter (1-3 lvl) basically looks like this:
First phase. "workout"
Spawn one enemy at a time (for sighting, smooth introduction into the stream).

Second phase. "omnipotence"
Spawning an increasing number of opponents, which can be easily dealt with by previously obtained firearms and owning movement mechanics. (for a sense of superiority and complete control of the situation, enhancing the sense of flow).

Third phase. "challenge"
Fast spawning of opponents in large packs with mixed weapons. (requires the player to be good at mechanics to win)
The second and third phases are combined and layered in different variations. After the end of the battle, the player has the opportunity to take a break and explore the environment. (break boxes,
read the messages on the walls).
To prevent the fights from being the same throughout the game, they are constantly supplied with different combinations of variables that can equally well both help the player and work against him: lvl design (precipits, shelters), floor and horizontal traps, exploding barrels, and of course , enemy types,
which are introduced into the game and combined with all possible variations, giving different combat situations not only to those who are currently fighting in the arena, but also to what body the player is in.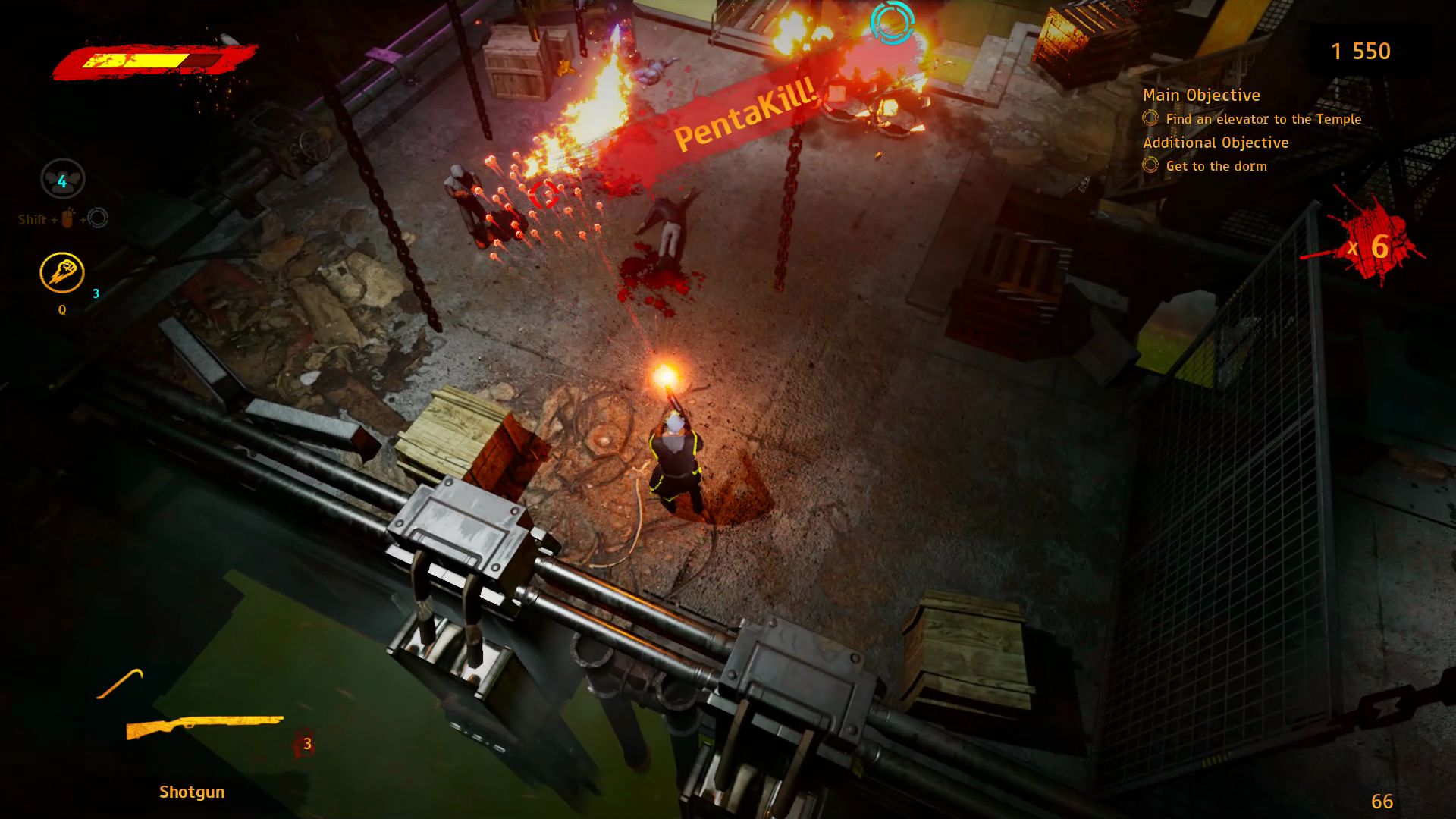 The fights in Chapter 2 (lvl 4-5) greatly increase the pace with the help of new fast classes, and in comparison with the first and third chapters, it requires the player to have more aimed fire than wildfire. The increased speed of the enemies and the reduced amount of cover forces not only to change the advantageous firing position from time to time,
and throughout the fight to be in constant motion. And the fifth level offers you to try a completely new melee experience, moving into an enemy with a katana, which has a run speed twice that of ordinary enemies.