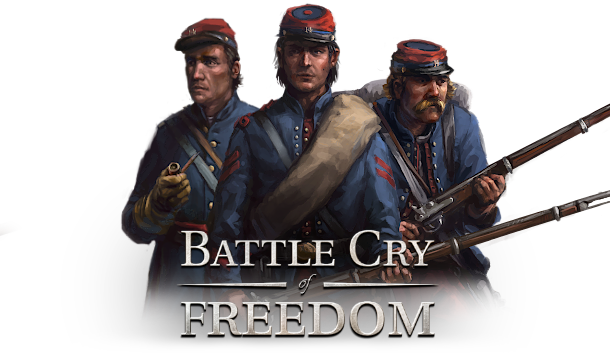 Hello there everyone! We have just launched our latest update to Battle Cry of Freedom introducing the Commander Conquest game mode to the game. Additionally, at 19:00 CET (13:00 EST or 10:00 PST) Battle Cry of Freedom will go on a 35% Sale! That is less than 2 hours from now! So load your Musket, sharpen your swords and prepare for battle!

For a limited time, you can pick up Battle Cry of Freedom with a special discount of 35% ($7/€7) off of the retail price of $19.99 (€19.99).
Commander Conquest
Commander Conquest combines the Commander Battle game mode and the Conquest game mode together into one. Players are going to battle each other over large battlefields with multiple capture points, trying to capture and hold strategically important locations.

Once a company has lost all of its men, the player and his company will respawn at the Home Spawn. This means that players joining late will also be able to play immediately. No longer will they have to wait for the round to end. With the new game mode, the Engineer class will become extremely useful, strengthening friendly positions and destroying enemy field entrenchments.
Battle Cry of Freedom is now 35% off!
To celebrate the addition of the new Commander Conquest game mode, Battle Cry of Freedom will be participating in a Weeklong Steam Sale from the 11th to the 18th of April. We previously announced that we will be launching with a 25% Discount but have instead decided to up the Discount to a massive 35%! So if you were thinking about trying out the game, now is the best time to do so!
Simultaneously with Steam, we will also be launching a 35% Discount on Green Man Gaming. The game is there available immediately, so if you can not wait to get your hands on the game, head over to Green Man Gaming and get the game before the 35% Discount starts on Steam later today.

Green Man Gaming: Greenmangaming.com
Other Important Changes
To accommodate the launch of the Commander Conquest game mode, we have entirely re-written the AI aiming code. Previously AI was not able to properly adjust for slopes in the terrain, meaning that they would often over- or undershoot their targets. This should now be fixed, making engagements much fairer.

Full Changelog for this PatchNew Features:
Added a new game mode: Commander Conquest to the game.
Added 2 new Banners.
Added "Generic" US and CS Infantry to the regular playable troops, no longer need to use the Modded troops.
Changes and fixes:
Changed how bots aim up and downhill to make them not shoot into the floor too much and actually aim properly at their targets.
Fixed the 1796 Pattern Light Cavalry Saber Scabbard.
Hopefully fixed the issue where you can't use cannon buttons.
Fixed a bug with map voting.
Changed some max values for map files.
Fixed a bug with Do All "X" text in the admin menu.
Updated weapon selection of the "Generic" Infantry troops.
Increased the accuracy penalty for being in 1 rank as line infantry, and buffed it for being in 3.
Fixed melee issue with player movement direction of attack/block:
Future Update Schedule
Starting with this Patch, we will be switching away from the regular weekly update Schedule to a more irregular update schedule. The reason for that is that we want to start work on larger new features, which will require more time and work. With a regular weekly update schedule, we do not have a whole lot of time to spend on implementing new features.

We will keep you updated on what we are working on and will provide you with many sneak peaks of what's to come.

Are you interested in attending huge organized Linebattles with hundreds of players? Then join our Discord and enlist with one of the Regiments (Clans) hosting organized events!






Thank you! Stay tuned for next Monday!
/Flying Squirrel Entertainment