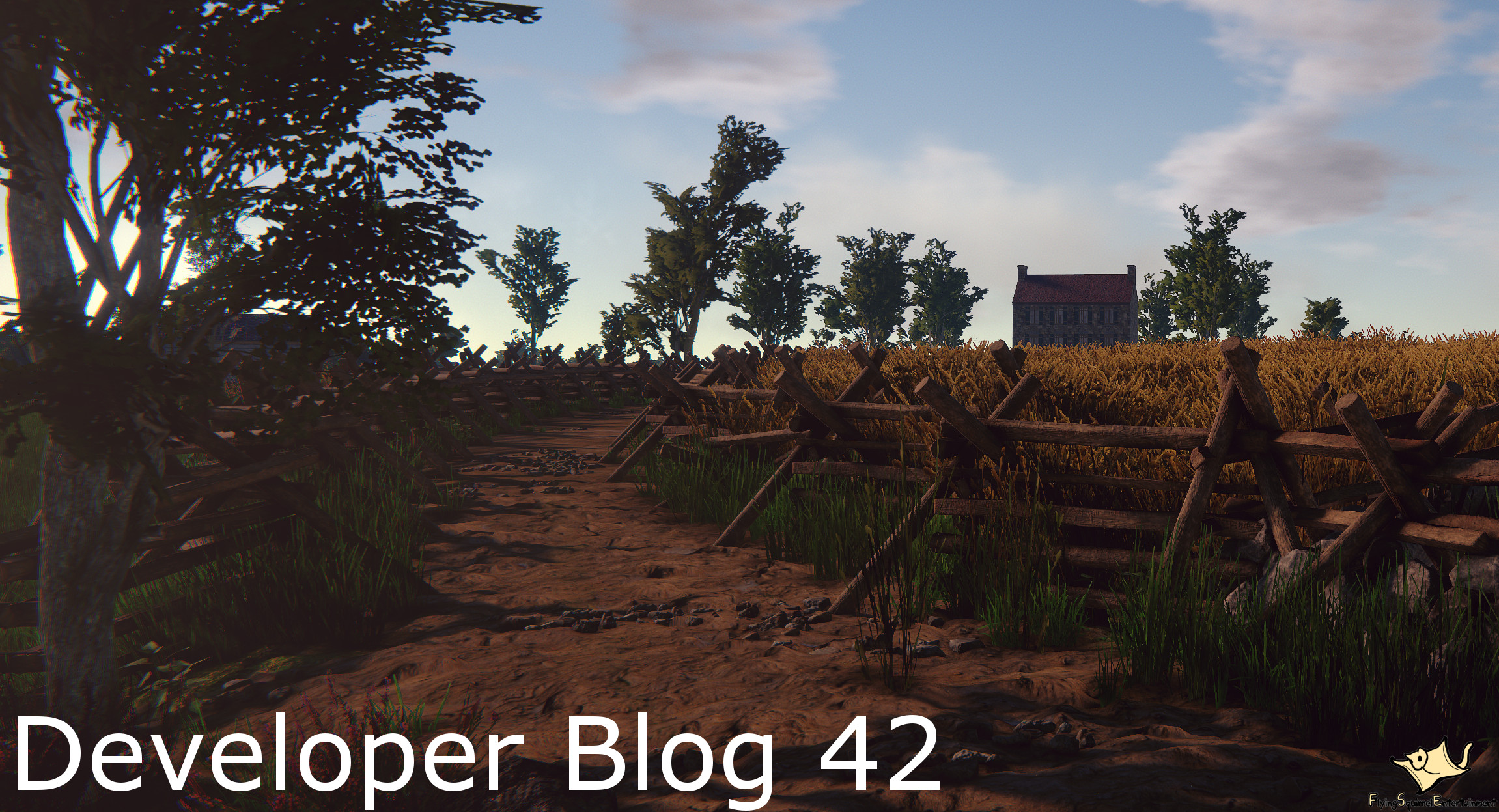 By the way, we have just created a new Discord Server! You can now talk to us directly about the game there.

Bonus System
Thunder has spent some time writing a comprehensive bonus system that works similar to the bonus system we have made for Napoleonic Wars. Generals, Senior-Officers, Junior-Officers, NCOs, Color-Bearers and Musicians all provide various different bonuses that affect friendly players effectiveness. Bonuses can include Running Speed, Aiming Accuracy, Melee Damage and Reloading Speed bonuses. Just like in Napoleonic Wars, instead of providing a custom bonus, generals increase the effectiveness of bonuses provided by other troops. Unlike in Napoleonic Wars, in Battle Cry of Freedom, bonuses stack up and keep adding (until a certain threshold)

Below is a video that shows the effect of the reloading speed bonus. You will notice that the Confederate soldier on the left reloads significantly slower than his Union counterpart. Please note that the Confederate soldier in the video is a placeholder and that most of his equipment is outdated and will be replaced with proper gear soon.
Maps
Olafson has introduced some new community mappers to the project, so that they can start work on new maps. He also worked on a number of new maps such as the one shown below. Note that the overview screenshot was made from the Unity-Edit mode, so the graphics are not represenative of the graphics in the game.
Musician TunesOlafson replaced ALL our Fife and Drum tunes with newer and better recordings of the same tunes. Additionally we have also added 4 new tracks to the list. Here is a video of two Musicians performing "Soldier's Joy".
Server and Admin Tools/Settings
We know how important proper and easily accessible Admin tools are for running a good public server or a Linebattle. As such we have spent some time on implementing various Server Settings. All Server settings can be set using a .ini file in the Server Files. Additionally, just like in Warband, any Admin can change any of the settings using the Admin Panel in the game. Any of the settings can be changed and applied in real time. We do not plan on adding console commands, as changing Server Settings using a User Interface is easier, faster and more convenient. Obviously, the UI for the settings is just a placeholder.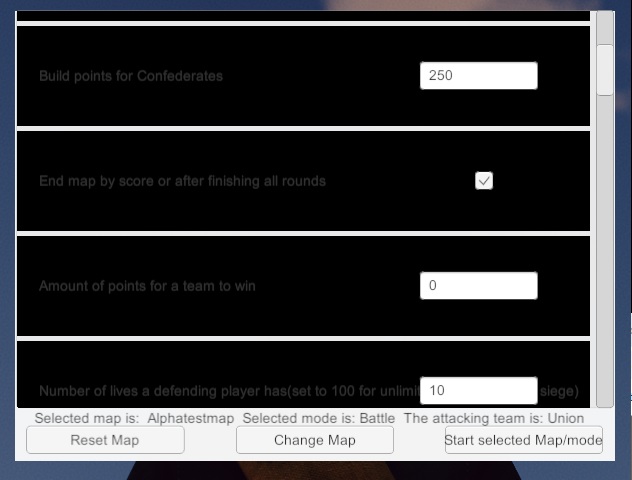 Environment Interaction
Thunder also programmed a system which allows us to apply damage to a player when being crushed by falling debris. The system also applies to artillery. Standing behind recoiling artillery is a good way to crush yourself under the wheels of a 1.5 ton gun. We will not show you our Artillery today, as we intend to publish a whole Blog about it, once its all done. If you are interested in reading more about what type of Artillery we will feature in the game, check out this BLOG about Artillery.

Confederate Gear
Admiral has been working hard on producing as much Confederate equipment and clothing as possible. This is all done in an effort to produce the 13th Virginia Volunteer Infantry Regiment. We intend to publish a small series of Blogs about the 13th Virginia once it is done, just like we did with the 20th Maine. But until we are at that point, here are screenshots of some of the gear we have finished so far.
Clicking on the images will open a larger, High-Res version of it!

Sapper/Pioneer System Improvements
We also finished up the digging system for placeable earthworks. Any unit with a shovel can dig/un-dig an earthwork with a shovel. There is also now a quick build key that allows sappers to quickly place the same object over and over again, which is especially useful when constructing sandbag walls. And lastly we added the ability to barricade windows and doors. Barricading a door will lock the door for both teams until the barricade is destroyed. Barricading a window will board it up to provide some additional cover against projectiles. It will also prevent the player from being able to vault through broken windows. As usual, everything can be destroyed. If you want to know more about our Sapper/Pioneer System, check out this BLOG about it.
User Interface Updates
With the Help of FlowBeatBox we are currently in the process of replacing much of our placeholder UI with a better looking and more functional UI. For example, this includes replacing the Scoreboard UI with our new design and adding a functioning compass to it. This UI example is still WIP, but you can see the direction we are going for.


Thank you all for reading this Blog. Sorry for the long wait times between Blogs and the poor content in the recent few Blogs. We hope that we can come back to you with some gameplay very soon!

Flying Squirrel Entertainment

Join the discussion of this blog here.