Basic attacks and the HUD are done as for now! (Ripped of pokemon black and white xD)
Sprinting or attacking decreases your stamina. Stamina regenerates every second, aswell as SP and HP. Staying idle increases the regeneration rate for all of these!
The level is just for decoration. Still working on the experience system!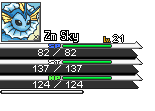 Each and every pokemon will have their own unique pasives (Counting the actual passives from the game). Example, an eevee is going to be alot faster than an ampharos. Ampharos is going to be somewhat more resistant than eevee counting his evolutions XD This will however, not give other evolved pokemon the advantage. Eevee will most likely have already evolved into one of his forms.
Unless the player wasnt able to find an item in order to evolve XD
All of this is bound to change, since im in the middle of implementing special attacks.
Anyways, here I show the HUD as of now.
The flag is just there for decoration XD
Again, I use vaporeon for the test. Its the only pokemon that has these things already implemented, since the sprites for the other ones havent been set.
That will be all for now. It might not seem much of an update, since ive been working on the engine alot more than adding new stuff. Look forward to the next update :D