It has been a productive week for Fire & Stealth. The new bamboo swamp area and 3 new spell have been added. Also networking was switched from UNET to Lidgren, allowing for more players.
New Swamp Area
Next to the old forest a swampy bamboo area has been added. This is still very much WIP but a nice contrast to the old forest nonetheless. Allows for some less obstructed combat.
In the center of the swamp some mist rises from the ground up.
The next image shows the swamp area from the old forest, which now has a road running through it, for better orientation.
New Spells
Fireball: Fast moving projectile which explodes on contact dealing AoE damage.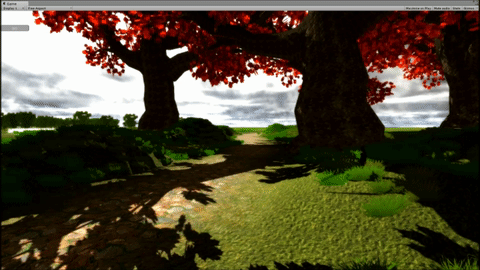 Ice explosion: Occurs when an Ice projectile hits a target. The Ice explosion freezes the target which slows down all movements.
Stealth: the Stealth effect can be used defensibly to escape confrontation or offensively to sneak up on enemies. It disappears when using other skills or taking damage. It also drains energy as upkeep.
Networking
The networking has been switched from UNET to Lidgren as UNET is horribly broken. Lidgren is also open-source and has been proved to work with games such as Rust. The downside is that Lidgren does not support WebGL so the focus for now is on standalone Windows/Linux builds.
So far all the UNET issues are gone and Lidgren worked perfectly in both local and networked tests with up to 5 players even with 50 updates per second (regular fps usually only have 15-20). I am confident that this should support a large amount of players (~50) on one server, with some optimized code.
Sunspear