BADMINTON WARRIOR
Early Access Release November 15, 2018
40% Launch Discount!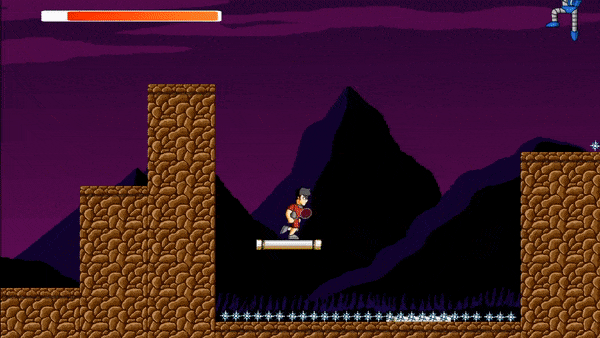 After two long years of working almost every day, I am happy to finally announce the early access release of Badminton Warrior! So what is this strange and whacky game about? In a nutshell, it is a 2D action adventure platformer where you fight evil with a badminton racquet. Clear, drive, and smash your way through sixteen levels of challenging enemies, traps, and puzzles on your journey towards facing the ultimate baddie in sports, the Bellighost.
What makes Badminton Warrior a unique gaming experience is its original combat system. While many games give you a sword, axe, or other melee weapon, you are tasked to take down your foes with a badminton racquet. Luckily, this racquet is enchanted and can deflect almost any projectile launched your way. However, the racquet cannot damage anything by itself. There are three main methods of attack.
Drive Shots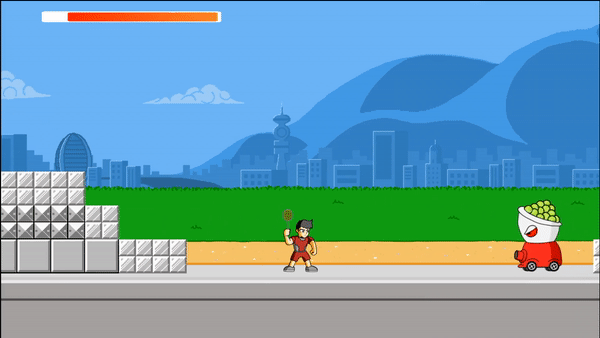 The drive is the easiest attack to perform. When enemies shoot projectiles at you, simply swing your racquet and send those projectiles right back into their faces.
Clear Shots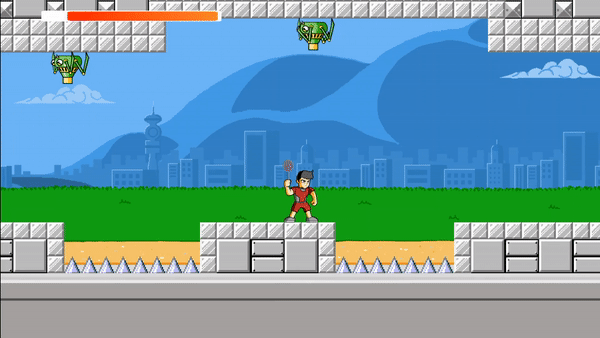 Clears are a little more difficult to perform especially when the attack is coming from above. They are great for hitting enemies on the ceiling, arcing a shot, or setting a projectile up for a smash. The one drawback of clearing shots is that they reduce the damage caused by the projectile in half.
Smash Shots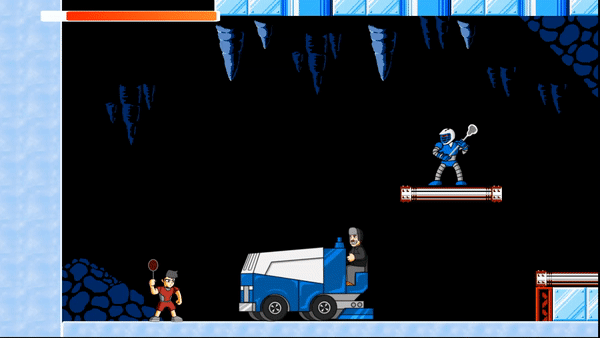 This is the most powerful attack in the game. Smashes can be performed while jumping in the air or climbing a ladder. They deal double the normal damage but are also more difficult to perform.
Combo Shots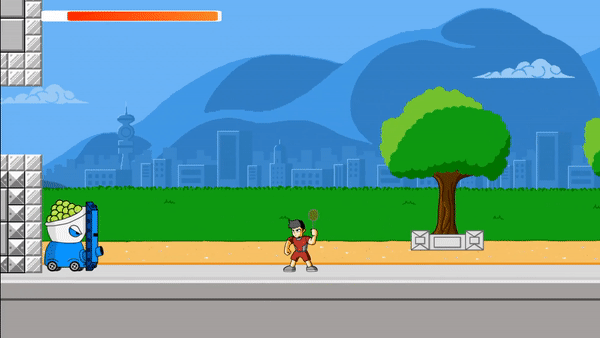 Sometimes players will need to use a combination of shots in order to attack enemies. In this case, the blue tennis launcher has a shield in front of him. The only way to get around it is to clear the shot over its head first, then attack him from behind.
Levels
Currently the game has sixteen levels in it plus an optional tutorial stage. The first two levels are easier and designed to get players accustomed to the game mechanics. After beating them, a stage select screen will appear showing eight new bosses who must be defeated in order to unlock Hades and the final six stages. (Can you tell I'm a big Mega Man fan?)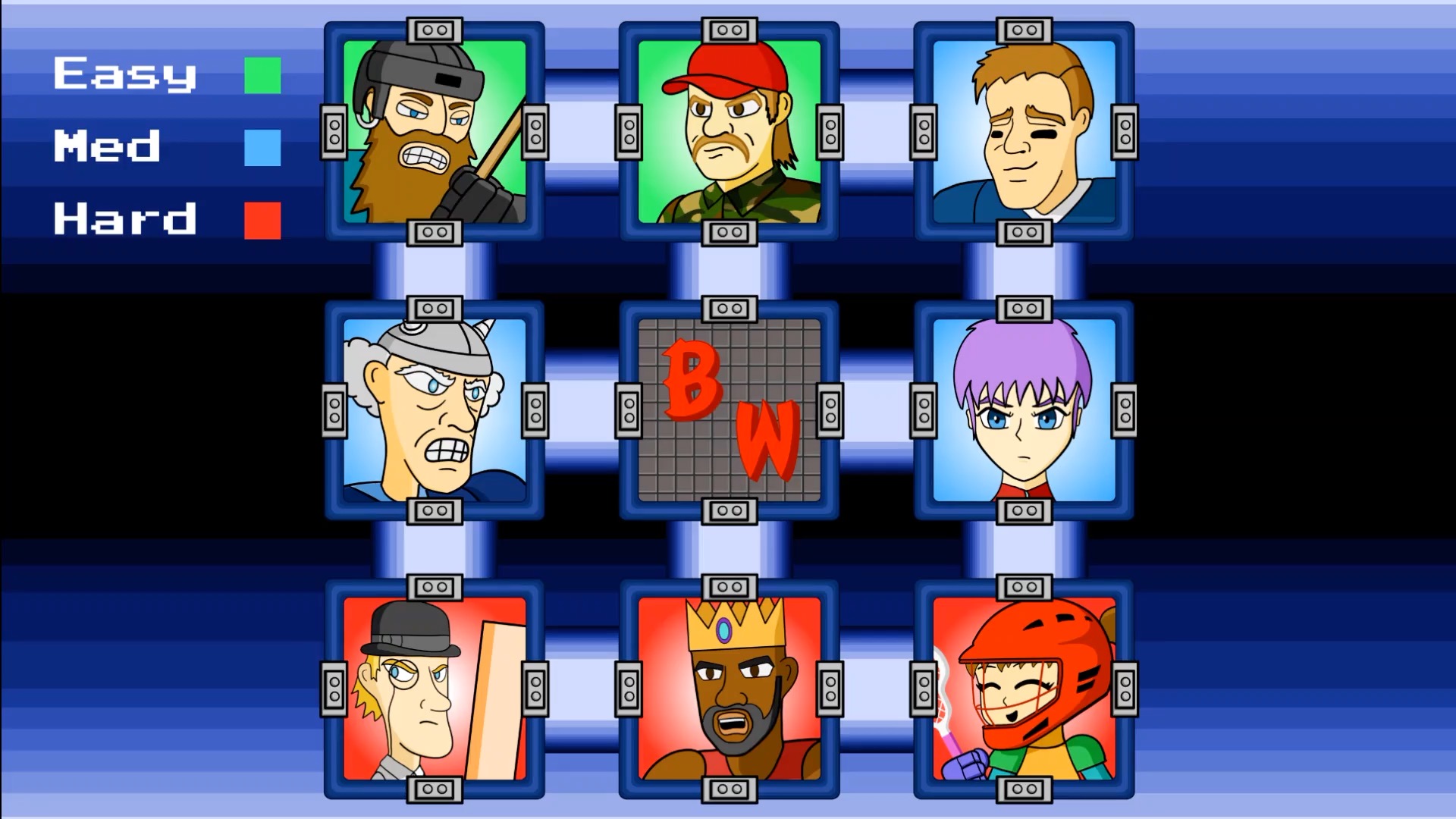 Game Design
One of the things that annoys me in video games is when the same challenge is repeated over and over again in an attempt to lengthen the gameplay time. I strived to make Badminton Warrior in a way that would present the player with a variety of challenges so that the gameplay would not become predictable and stale. The following are a few examples.
Teleportation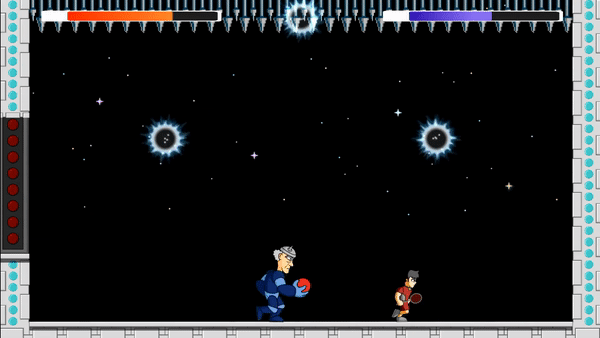 In the space level, players can teleport from one place to another instantaneously. The problem is, so can their enemies and projectiles. This can create some chaotic combat as things move rapidly around the screen. Players will also have to figure out how to hit certain enemies and door switches by using the teleporters to their advantage.
Basketballing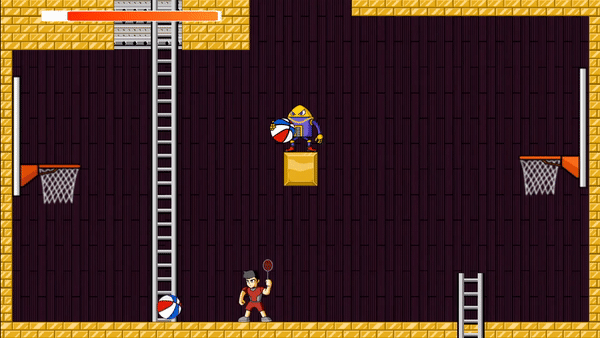 The basketball level requires players to sharpen their shooting skills as they must make baskets to open up doors. It's a good thing Ral is a better free throw shooter than Shaq. The ball bouncing mechanic also allows for some interesting combat since some enemies can only be hit by ricochetting a basketball off the walls.
Tetherball Anyone?

One of my favorite levels of the game. There is just something satisfying about killing enemies by smacking a spiked tetherball around. Three different kinds of tetherballs require players to utilize them in three different manners. I won't give away how, but they all are pretty fun.
Enemies
With a cast of over thirty-five characters and bosses, players will encounter an array of challenges. Some of the enemies will make people laugh or smile. Others will make them think WTF?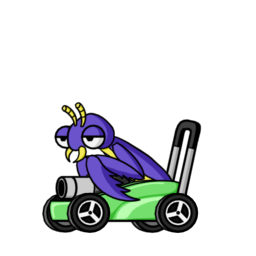 A mantis driving a racing lawn mower.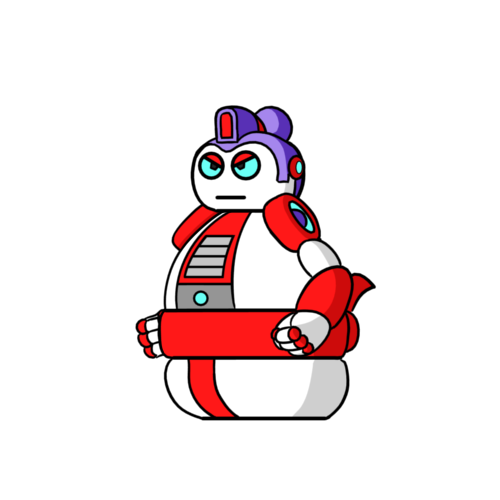 A sumo bot that can launch rockets.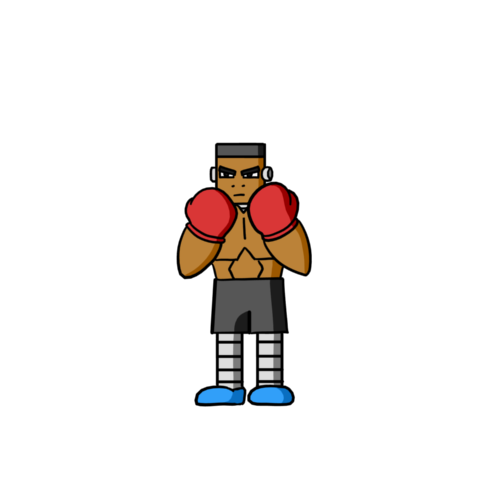 A boxer bot with an atomic punch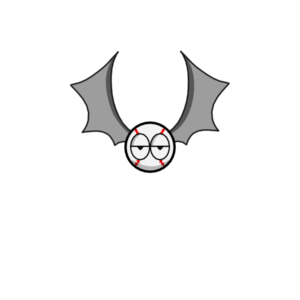 A baseball bat, get it?
And of course there is this big fella...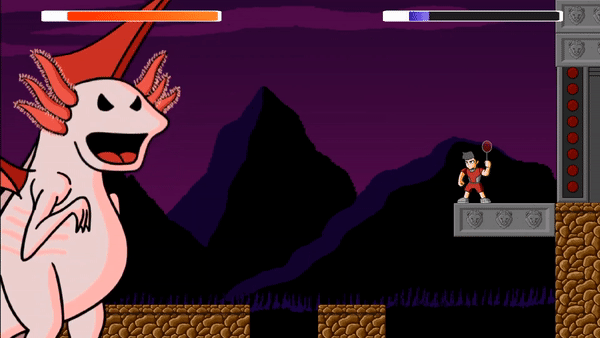 The Story
With any off the wall, oddball game, you cannot forget the whacky story. I'm pretty sure the tale about a boy fighting evil using a badminton racquet has not been told yet. In any case, here are the details...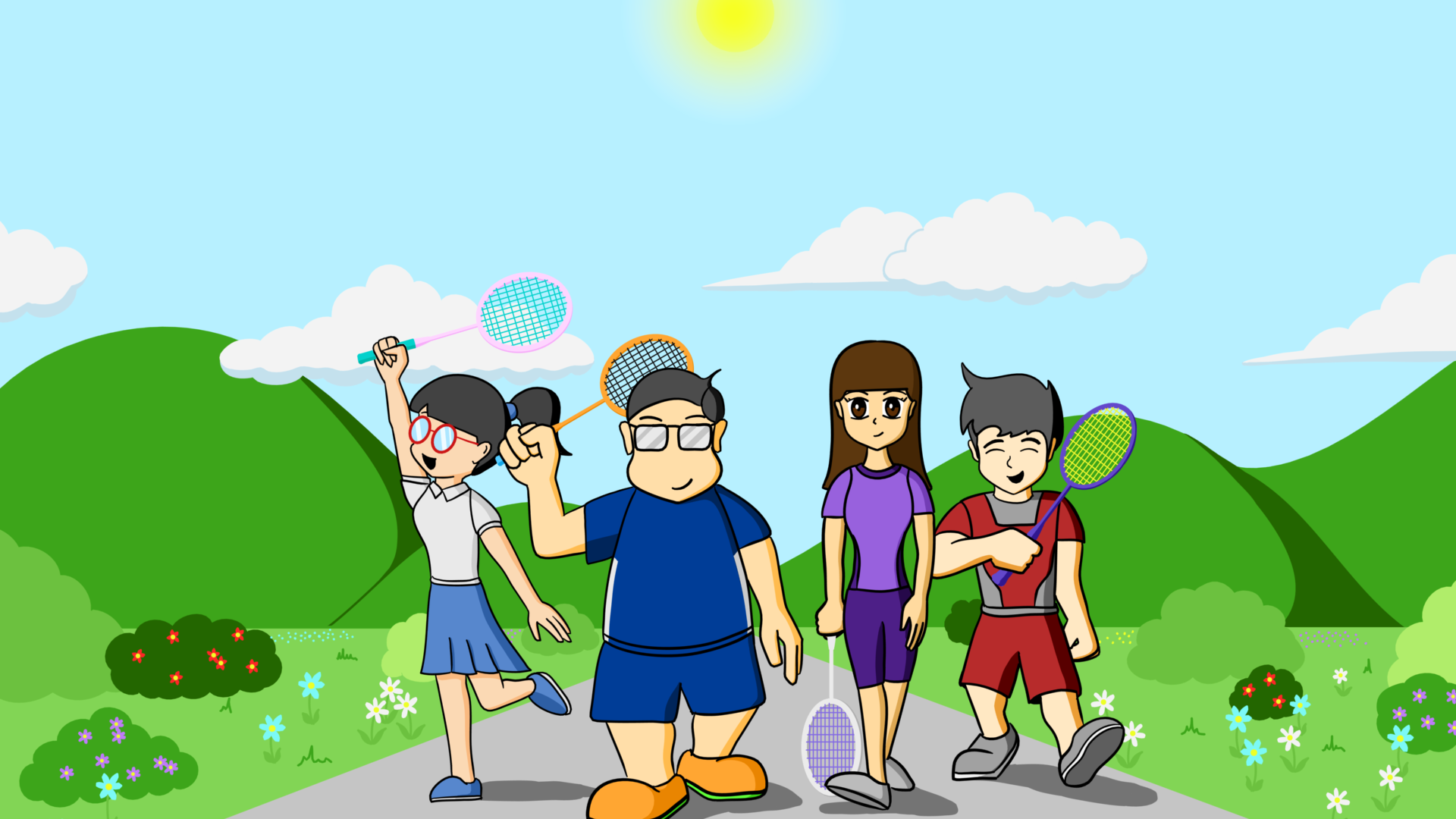 AJ, Jing, Mindy and Ral go out to play badminton one day when a dark, hooded figure appears out of the sky and kidnaps Mindy. Unable to play a game of doubles now, Ral becomes determined to rescue his friend. A mysterious old monk then materializes and gives Ral an enchanted badminton racquet, explaining that his ancestors used it to defeat their greatest enemies. Ral sets off on a quest that will bring him from the highest mountains to the depths of Hades en route to his ultimate destiny... becoming a badminton warrior!
So for those interested in playing Badminton Warrior, the current release date for early access is set for November 15, 2018. There will be a special launch discount of 40% effectively making the price around $5.99. A free downloadable demo will also be available for anyone who wants to try the game before purchase. The demo includes the first two introductory stages plus the ice and space levels. Purchase of the full game unlocks all sixteen levels. The game is for the most part complete but is missing an end credit sequence and for good reason.
I am hoping to get player feedback and suggestions on how to make the game better. I plan to be active in the community groups and will do my best to troubleshoot, answer questions, and implement ideas that I think are worthwhile. Contributors whom I believe are extra helpful will get a credit in the game. I'm really looking forward to seeing people finally play Badminton Warrior as I have spent many of late nights making this dream into a reality.
I certainly hope not. There is still so much to talk about, and I'm looking forward to discussing the game with other players. Nevertheless, you can only put so much material in one article. If you made it this far, thanks for reading and taking an interest in my game. That's all from me at the moment. Hope to see you on the Badminton Warrior community groups soon.