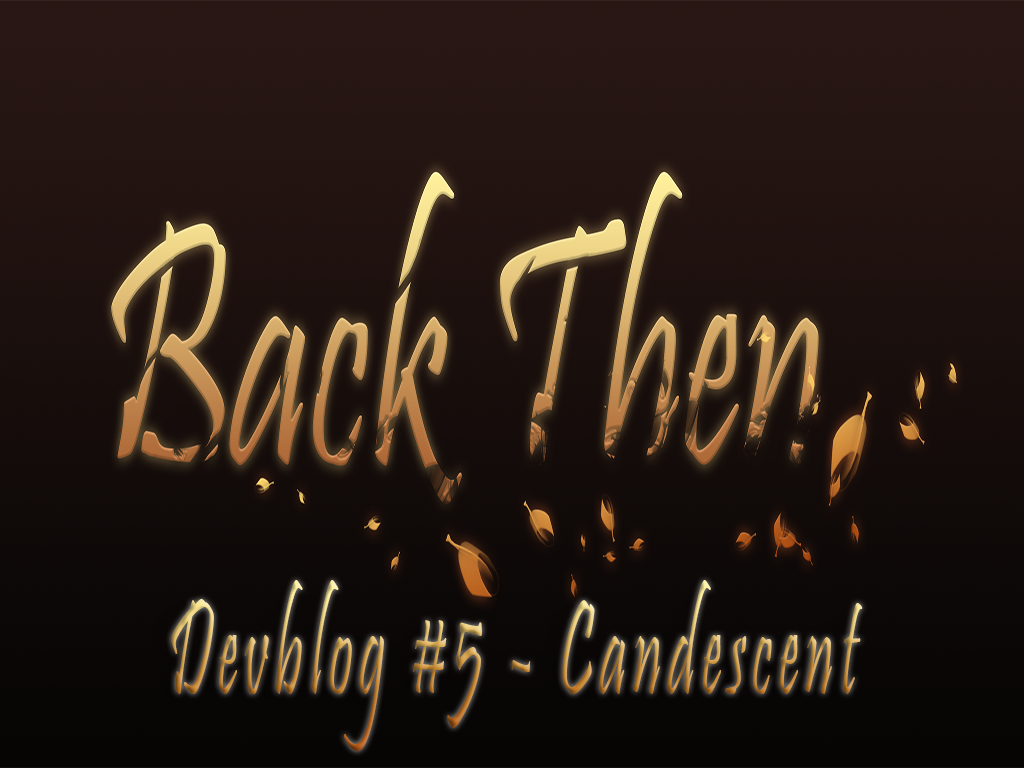 Welcome one and all to blog #5 of Back Then.
The past few weeks have been hectic, but with great reason, so much has happened the past 2 weeks so let's break it all down.
Contests-
This month of October will be very exciting for us since we've enlisted Back Then in 2 different contests here in Portugal.
PLAYSTATION TALENTS-
This year marks the 5th edition of Playstation Talents, and we, fortunately, had the opportunity to enlist. Our GDD and teaser were sent, alongside all of our fingers crossed for us to "get to the next stage" if you will.
Later this month, the finalists will be announced, if Back Then is selected, we'll be having a booth at Lisbon Games Week 2019 in November, this being one of the two biggest gaming conventions here.
After that we'd go to an award ceremony, where jurys will award the finalists with select awards, the big one being "Best Game" which not only gives us a good sum of money to keep working on the project but also publishing for the PS4, which is a great help.
Let me reinforce the fact that none of this is guaranteed, competition is stiff, there are a lot of incredible projects out there, and we all want a piece of the pie.
INDIEX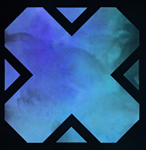 For the 2nd year in a row, IndieX opened up its doors for indie games, both national and international to participate in their €5,000 contest.
Last year 55 games were picked, and Ruben, our programmer (also the one who wrote this) won the People's Choice award, this year though, we got eyes on the grand prize.
We've submitted a small demo, and have begun our rituals of praying at night in order to be a finalist as well, because even if we don't win the grand prize, having a booth and XL Games world, the other big convention in Portugal.
Again, none of this is guaranteed, we'll be posting news as they come out, because we're going to know if we pass on each of these contests the same time you will, wish us luck :)
New Art-
Icon/Mouse pointer
Making a game pretty is part of the process, which is why Aquiles, our artist, cooked up these gems for our eyes to enjoy while at the same time, bringing another dynamic of professionalism to the project.
The icon features a tree on a hill, something that I can't talk about yet, but it's significant towards the narrative, maybe in November you'll...see it.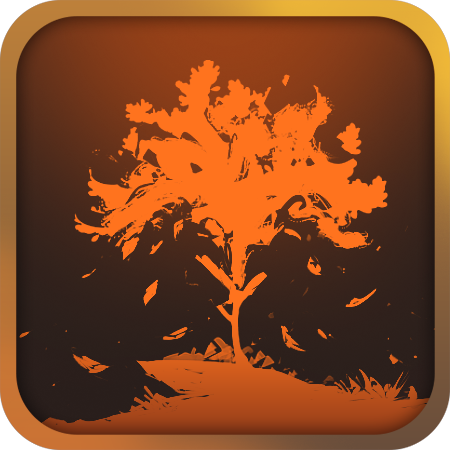 I have to admit, having this little icon on my desktop brings me a sense of joy, everything is coming together.

The pointer follows in theme with the icon, featuring a leaf with a heavy outline, as this is your cursor, after all, it would be weird if it just blended with the other warm colors the game features, but it looks pretty good in-game I'd say, here's the pointer in HD.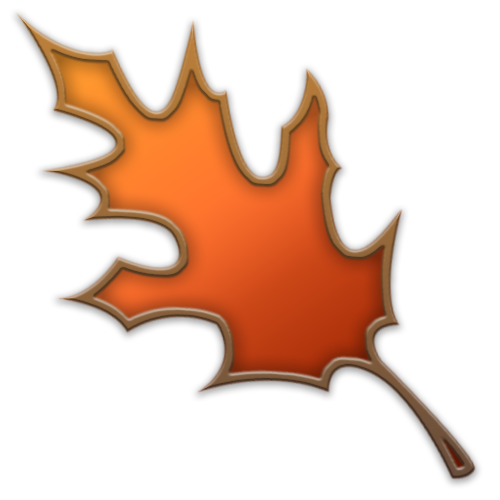 Pointer inside the menu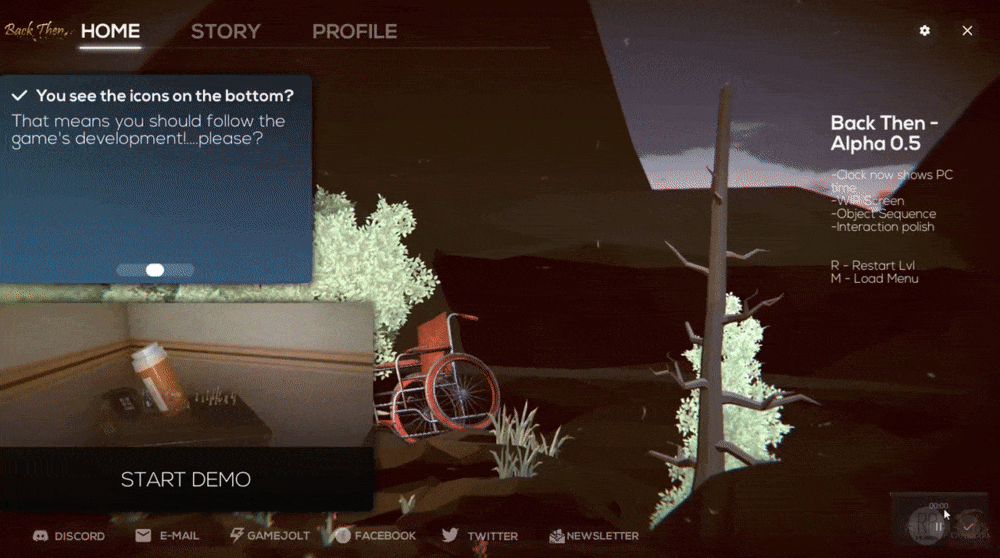 Pointer in the diary

Revamped trailer
To go alongside the polishing we've been doing in certain aspects of the game, we've updated the teaser trailer with a few minor touches and corrections.
New Features-
Interactions-
All interactions implemented thus far in the game are now following the narrative structure of the story, meaning that now the guitar only shows up when you interact with the radio, and so on. We're going to leave sequence up to you to figure out, because hey, it's part of the game after all and no one likes to be spoiled :)
What we can show you is a new item, the digital clock.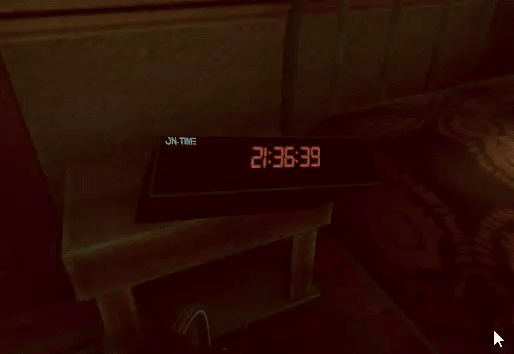 Now this clock is very unique, as the time it shows, are your actual pc time, this will influence the game in many different ways, such as the scenery outside depending on what time it is, certain events can only happen between certain hours, and it counts how many days passed since you started playing the game.
It's all very deep and sad, but that's the point, show you how long a person in that situation spends wallowing in their thoughts.
Settings-
Accessibility is a very important factor for us in the making of Back Then, we're making a game about a mental illness, putting it in the spotlight and giving everyone an overview of what it's like being in those shoes, so obviously, we want as many people to play the game, and thus come the options.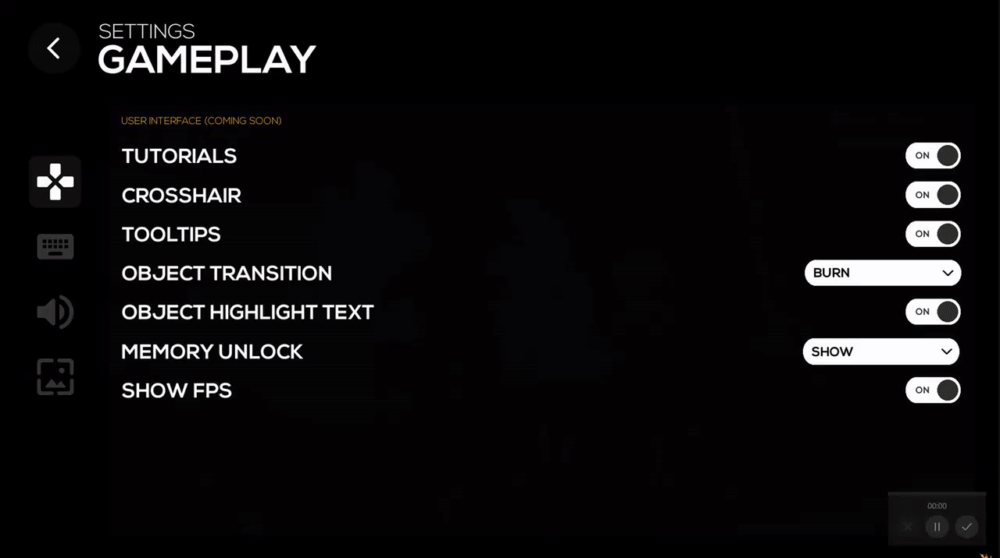 Here's a sneak peek at what we're currently working on, so far we got the bases covered, resolutions, sound, display mode, etc.
These lists will grow over time though, as we're still missing key options like an FOV slider, keybindings, controller mapping and color blind options.
What's next?
Subtitles-
We're taking a unique approach to the subtitles in the game, we're going to have 2 different types, one for interactions, so any object inside your room, and another for flashback sequences.
How do they differ? They differ in their D....uhm, one is 2D and the other 3D is what I mean.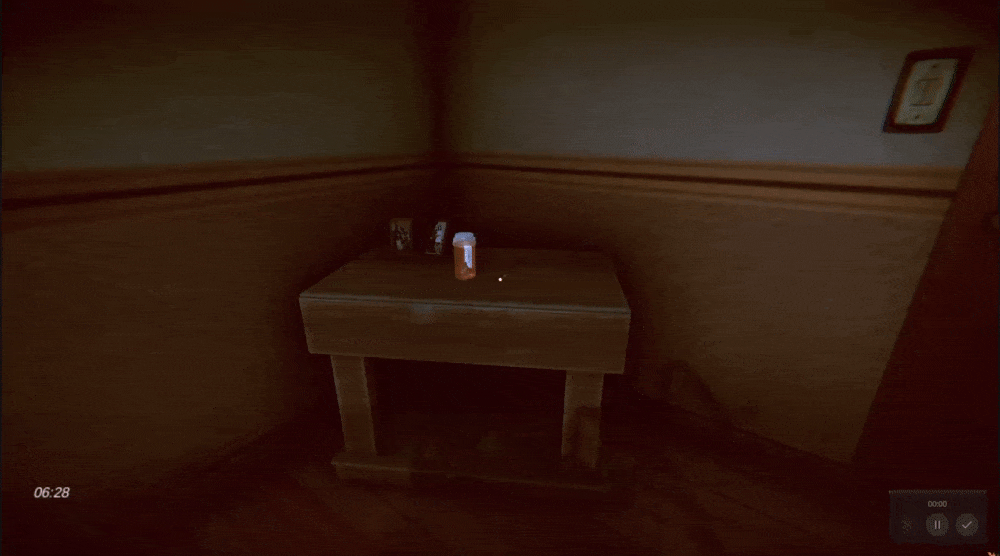 The 3D version will look similar to those you find in the scene floating above interactables, but a bit more nuanced and cinematic.
The 2D version are your traditional subtitles, so I reckon it's no use showing an example :P
Flashbacks-
With the narrative of the game being almost concluded, the flashbacks will start to be introduced, these trigger only on certain conditions, and you may miss some on your first playthrough.
More on that soon :)
And we've reached the end, thank you for reading once again.
It's been a very stressful couple weeks, but now everything is calming down, and so are we, updates should be back to their consistency :)
Cheers,
Ruben