Ahoy!
We just launched our Kickstarter campaign for Pirates of New Horizons Mobile (iOS/Android; tablets and smartphones) and we really need all the support and help we can get from you!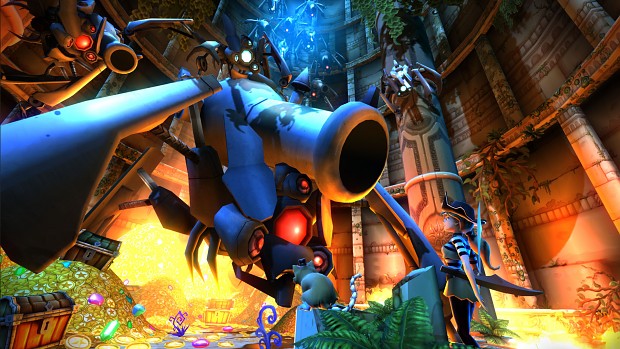 Pirate girl "Annha" and the flying cat "Professor Hencheworth"
You might have heard about Pirates of New Horizons and played our free PC demo sinche we have been working on it for three years now. We started out making a PC version, but due to financial reasons we are now forced to slow down to release the game for iOS/Android (smartphones and tablets). If our Kickstarter campaign is turning out as we hope, we would love to to go back and release for PC/Consol.
Pirates of New Horizons is a 3D platforming game with a great pirate humour made by level designer of Mini Ninjas fame and industry veterans, who, among others have been working at IO Interactive, Blizzard, Kixeye, Unknown Worlds and Bigpoint. The game offers real old-school gameplay and game feeling.
You will recognize some of our inspirational sources for Pirates of New Horizons from:
Super Mario 64

and its platforming elements

The Monkey Island

series and its great use of (pirate) humour
Combat elements from

God of War

Colourful art from

The Legend of Zelda: The Wind Waker
Please don't let an old friend go down:
We are giving the realease of this game another and last shot and we really need your help in order to support and share our Kickstarter campaign with the rest of the world. I hope you love the game as much as we do. Please help us to reach our Kickstarter goals!
Aye! Thanks! & Cheers!
Pirates of New Horizons Dev. Team.
Pirates of New Horizons: Piratesofnewhorizons.com
FREE PC DEMO: Piratesofnewhorizons.com
Us on Kickstarter: Kickstarter.com
Facebook: Facebook.com
Twitter: Twitter.com
Youtube: Youtube.com