Hi there,
I hope you had a lot of fun at this Halloween night.
For us this month was crazy , but, eventually, I found a moment to pull myself out from the work to write a new update, and actually we have some interesting stuff to share;)
Nintendo
Good news for all owners of Wii U. It finally happened, about a week ago we (Snow Arc) became an official Nintendo developer, this means that now we can develop and self-publish games for Nintendo consoles. So, Yes! Frozen State is going to be on Wii U;)
But you would like to know more about the progress, wouldn't you?
All right… here it is…
Luch 12
First of all we slightly redesigned the inventory GUI -"Lutch 12″. Its initial double-display concept has transformed into a more conventional single-monitor shape. Though the double-display version looks cool and unique it has some considerable flaws. The most irritating is a lack of useful space that were left for the actual interface, needless to mention tiny fonts and contracted words.
The single-monitor gadget, however, doesn't have such problems. We've have managed to preserve the initial design of "Luch 12″ and an idea of splitted screen. Thus as a result we've got an interesting looking UI and more room that we were so needed. At the first glance, it may not look like a big change, without any interface on it, but believe me it's a gigantic difference.
Creatures
The Boar or "Mr. Bacon", as we call it, has been crafted with love and awaits to get its animations.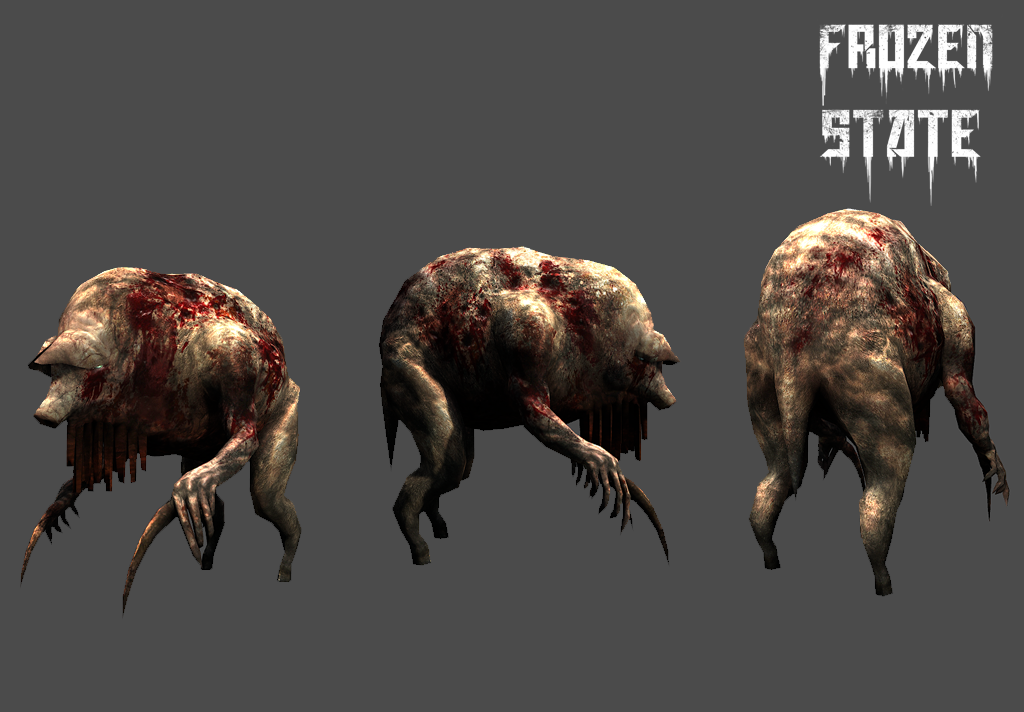 We already have five different types of Hybrids fully completed, by completed I mean modeled, animated and imported in the project. All of them are going to be in alpha.
Besides, we have a new "pet in our "Zoo" – the Tripod.
Locations
As I already, mentioned in the previous update, the work on the "Docks" is nearly done. At the moment we're finishing up the very last building, which is an "instance" type.What are the "instances" in Frozen State? Usually, an instance is a fairly large building or a structure that is too large and complex to be a part of the "world". Such buildings contain many elements such as floor plans, interiors, loot, obstacles, spawn spots for enemies, NPCs, and many others which are put together in a whole building procedurally. In the future, almost every game object in the world will be procedurally planted on its place

This is just an example of an instance building (without props)
And a few screenshots from a location that we have just put in development.
The screenshots are taken from the engine's editor and DO NOT represent the final quality. HUD will be changed soon.
Thank you,
Snow Arc Team