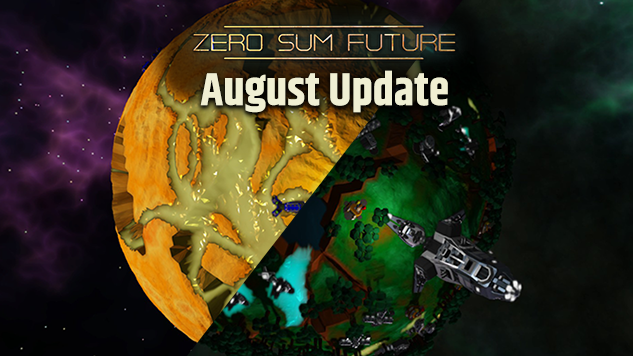 Fellow enterprising space capitalists!

Zero Sum Future is getting a new, major update to celebrate what should hopefully be our last month before release. There's a ton of ground to cover and we're super excited about it, so here's the meat of it:

1) We have totally overhauled our user interface in game. A large number of redundant elements have been removed, and both the warehouse display and the planet display has gotten some nifty new bars to help you figure out exactly how your enterprises are functioning.

2) The theme of the UI improvements continue: We've added animations to these new elements, and they should look and feel a lot smoother during regular play.

3) Because a fresh UI overhaul isn't really worth much without some improvements in the sound department, we did just that: For the past 2 weeks, our sound guy has been working feverishly around the clock to bring you a completely overhauled sound library. Most of the UI sounds have been reworked, and now the in-game units have nifty tricks like making humming sounds when working well, or the shuttles increasing their engine pitch when traveling faster.

4) Oh, and because he can't help himself, our sound guy also composed a brand new track for regular gameplay, and two quick themes for the loss/victory themes.

5) We've redone most of the network code to deliver a better experience to our players: The games should no longer desync or go down in random crashes. And now, you can connect to games you disconnect from, for those with spotty internet connections.

6) The Carrier and her particles have been improved to go along with our sound improvements. It looks properly sci-fi and hyperspace-capable.

7) The sound engine has been overhauled to let diegetic sounds work properly in the vacuum of space. Games should feel a lot more alive when every working building has it's own little hum.

8) The level-of-detail calculation for planets has been reworked to look and feel a lot smoother – this one won't be noticeable to most people unless if they went out of their way to find bugs in previous builds, but at least our graphics guy can sleep a little better at night.

While this is the current version, we're not quite done with our mad update pace this month:

1) At the moment, the tutorials, the map editor, and the single-player challenge mode are all disabled as we're scrambling to overhaul those systems to work better and just be more fun to use. The tutorials should be done in the next few days, and we have exciting plans for both the map editor and the challenge modes.

2) The UI for the title menu is still the old version, and, frankly, looks quite outdated. The graphics guy has been remanded with appropriate disciplinary action and will be submitting those changes later this week with a groveling apology.

3) Because we were at the height of our popularity during our 50% off sale a few months back, we've made the decision to drop our price point to $9.99. This will allow us to deliver better value to our players, and help us continue to expand the playerbase of Zero Sum Future. If you wishlisted us in the past, now is the best time to get in.

That's it for now! As mentioned previously, we'll be pushing out a series of major updates this month, so stay tuned for more announcements soon!