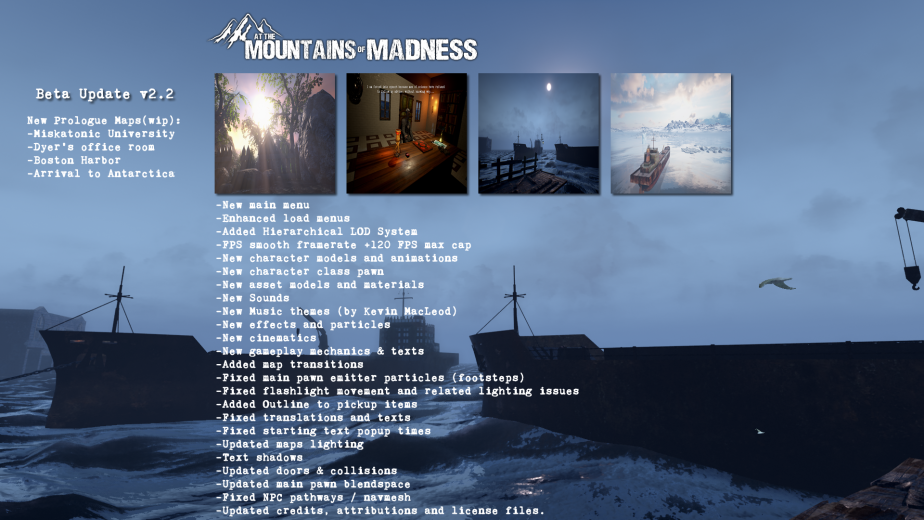 At the Mountains of Madness Early Access Beta is updated to v2.2, this new update comes with tons of new content and fixes, making the game a bit more extensive and much more playable for now. There are still so much work to do but you can see the direction the game is taking by playing this update, hope you like it.
Let us know any issues or any feedback you may want to share, best regards!
New Prologue Maps(wip):
-Miskatonic University
-Dyer's office room
-Boston Harbor
-Arrival to Antarctica*
Content
-New main menu
-Enhanced load menus
-Added Hierarchical LOD System
-FPS smooth framerate +120 FPS max cap
-New character models and animations
-New character class pawn
-New asset models and materials
-New Sounds
-New Music themes (by Kevin MacLeod)
-New effects and particles
-New cinematics
-New gameplay mechanics & texts
-Added map transitions
-Fixed main pawn emitter particles (footsteps)
-Fixed flashlight movement and related ligthing issues
-Added Outline to pickup items
-Fixed translations and texts
-Fixed starting text popup times
-Updated maps lighting
-Text shadows
-Updated doors & collisions
-Updated main pawn blendspace
-Fixed NPC pathways / navmesh
-Updated credits, attributions and license files.
*You won't be able to save the game at prologue maps as intended for tutorial and storytelling until your arrival to antarctica.