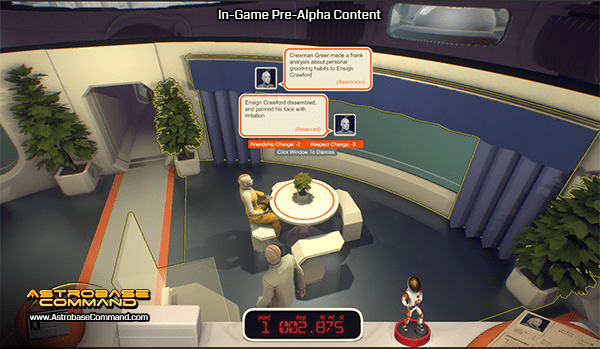 Crewman Greer's lack of diplomacy concerning Ensign Crawford's personal hygiene is poorly received.
Procedural Chat
Jellyfish Games is proud to unveil Astrobase Command's procedural chat system.
One of Astrobase Command's key gameplay components revolves around the interactions between different characters. Rather than displaying pre-generated lines of text when characters deal with each other, the AI procedurally generates unique responses based on each character's traits.
These "watercooler conversations" are built around the same general technology that powers Astrobase Command's away mission log generator, reducing the tedious repetitiveness that has been associated with the genre while producing meaningful changes in character relationships.