Hey guess what, it's been about a month since my first post! This week was a good one as far as assets go. Got a lot of assets done and when I say a lot, I mean a lot. This week alone, I've made a total of 20 assets, not even joking. 10 of those were finished yesterday. Now on their own they're not look all that interesting, but when in the game environment with all the nice fancy lighting effects in place, it looks pretty sick (if I may say so ;) ). Now that so many of the assets are getting done, the level is finally starting to come together closer to what I'm aiming for.
The first few assets I got done this week were floor and wall panels, a total of 6 different ones. I finished these earlier in the week, not long after the last update actually. So lets take a look...
Here you can see one of the panel sections at the bottom near the platform BHB is standing on (near the red chainlink fence, another new asset btw). I haven't done too much new stuff with this area of the level, asides from the new floor panels, so it hasn't changed much from previous screenshots. The floor panels in this screenshot are using the parallax specular shader, which is why the panels appear to have dimension.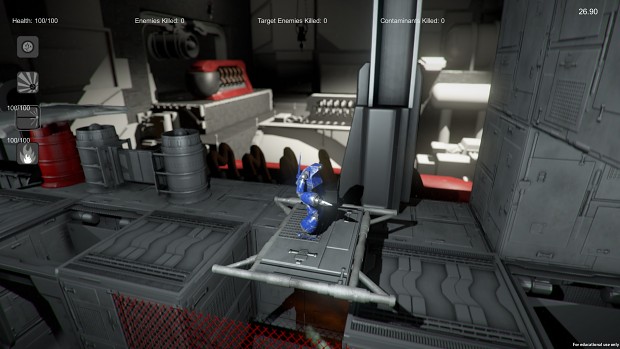 Aha! Now things are starting to come together! A lot of the rooms have been relatively bare of assets but the floor and wall panels add a much welcome level of detail. This is a lot closer to the level of detail I want overall and while it's not completely there yet, I'm really liking how it's turning out. One rule of thumb I've been using is that it's very easy to make even poor quality assets look good in the dark, so if they're able to look good or decent in a well lit environment, you're on the right track.
And now for the best of the best! There's simply too many assets to cover each one individually, so instead I'll leave you guys with a bunch of purty shots.
Warning: Prolonged exposure to power conduits may result in radiation poisoning and possible bleeding from body orifices.