Assault Multiplayer Map Screenshot
Hi guys, this is a new screenshot of Assault Multiplayer. In this screenshot you can see a new multiplayer map : "Desert Map". In the multiplayer you will be also seeing the original favela map and other cool maps that are now being developed. Enjoy !
Posted by absolutegames on
New screenshot of the multiplayer !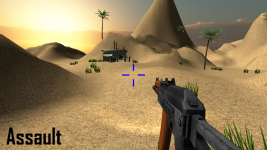 FB Page: Facebook.com to ours YouTube page : Youtube.com Page :http://www.absolute-games.blogspot.com/Twitter : Twitter.com